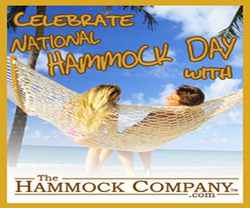 National Hammock Day without a hammock would be kind of like the Fourth of July without fireworks! This holiday is all about kicking back and relaxing.
Greenville, NC (PRWEB) July 14, 2010
July's holiday calendar is home to more than just the birthday of American independence; it also boasts the observance that celebrates our desired independence from stress. National Hammock Day is July 22.
While many holidays seem especially designed to actually heighten stress (Thanksgiving dinner with the in-laws, anyone?), National Hammock Day exists purely to celebrate ridding ourselves of unhealthy, unwanted worries and anxiety.
"This holiday is all about kicking back and relaxing," explains J.R. Pelletier, longtime manager of HammockCompany.com, a global leader in the sale of hammocks and other outdoor furniture. "Celebrating is just as easy as climbing into your own hammock and giving into the gentle sway.
"National Hammock Day without a hammock would be kind of like the Fourth of July without fireworks!" Pelletier adds.
HammockCompany.com hammocks range from artful variations on the ancient South American styles that started it all to rope hammocks in such traditional materials as cotton or such outstanding new-generation synthetics as DuraCord, as well as single- and double-layer all-weather fabric hammocks of superb comfort, design and durability.
"What's available to consumers today is worlds beyond what people considered the hammock to be even a half-century ago," Pelletier notes.
Far from the symbol of relaxation it has long since become, the hammock started out in ages past as something functional, not fun. Though sometimes said to have been "discovered" by Christopher Columbus, an early version of the hammock was being used as beds by native peoples across the Caribbean and the Americas for about 500 years before Columbus carried a few of the curious things back to Spain with him.
Hammock materials ranged back then from old fishing nets to bark from the hamak (thus, hammock) tree, palm fronds, sisal rope and various indigenous fabrics. In the 1600s, the British Navy introduced a hammock of heavy canvas as its ship's bed, with the U.S. Navy having adopted the same practice by the time of the American Civil War.
"Cap'n Josh" Ward's quest for a cooler night's sleep led him to experiment with hammock redesign. Ward had no interest in Navy-style cocooning canvas hammocks, instead setting his sights on refashioning the inferior rope hammocks of his day; rope allowed for greater airflow around the sleeper's body. For his redesign, Ward started first with thicker rope – cotton rope, not the hemp or manila rope common then – and a lattice-like weave, which eliminated the need for the bulky, uncomfortable knots that were then standard within a rope-hammock bed.
Ward's true legacy, however, is the invention of the hammock spreader bar, a narrow piece of wood with holes bored in it for ropes to pass through, to hold his hammock open at both ends even when in use. No more cocooning fit; his new hammock offered, for the first time, a relaxed, open reclining experience.
And with that, the classic American rope hammock was born, becoming in the century since the very paragon of leisure.
Now there's a history worthy of the most comfortable celebration! So may your own National Hammock Day be a testament to total relaxation.
ABOUT HammockCompany.com
HammockCompany.com, established in 2002 and based in Greenville, N.C., is an online specialty retailer focused on hammocks and related outdoor furniture.
Hammock brands include The Original Pawleys Island Rope Hammock, Hatteras Hammocks, Nags Head Hammocks, Hennessy, ENO, Kelsyus, Tuuci and The Captain's Line, HammockCompany.com's own brand.
HammockCompany.com also offers several brands of hammock swings, plus swing and hammock stands and one of the largest varieties of online hammocks, rope furniture and outdoor-relaxation accessories.
For more information, visit HammockCompany.com.
###