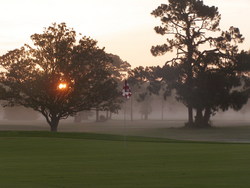 Selva Marina has a long-standing history in the Jacksonville community and it is our ultimate goal to revitalize the club and reintroduce it to Northeast Florida.
Jacksonville, FL (Vocus) September 28, 2010
Hampton Golf announces today it has been selected to provide management services and reenergize Selva Marina Country Club in Atlantic Beach, Fla. Under the contract, Hampton Golf will make improvements to the club's existing facilities and will manage all components of the club, including golf, tennis, aquatics, food and beverage, catering, maintenance and customer service. The contract adds approximately 45 new employees to the Hampton Golf team.
"Selva Marina has a long-standing history in the Jacksonville community and it is our ultimate goal to revitalize the club and reintroduce it to Northeast Florida," said MG Orender, president and CEO of Hampton Golf and former president of the PGA of America. Hampton Golf currently manages 19 courses and clubs throughout the Southeast. "We will begin making improvements at Selva Marina immediately to ensure it is a modern club with the finest amenities and facilities while maintaining its tradition and upstanding reputation as one of the city's premier country clubs."
Founded in 1958, Selva Marina includes an 18-hole, par-72 golf course featuring a driving range as well as practice, pitching and putting greens. Former home to the Greater Jacksonville Open, now known as The Players Championship, the course features elevated greens and provides a fair challenge to all skill levels. In addition to the golf course, Selva Marina features 12 Har-Tru clay tennis courts, eight of which are lighted, and a junior Olympic-sized swimming pool that is home to the Mariners, a competitive youth swim team. Selva Marina also offers full dining facilities for members, full on-site catering and entertainment opportunities at its banquet facilities and meeting rooms.
"Our goal is to reenergize Selva Marina and raise its stature within the community. To do that we knew we would need a professional, efficient and effective club management team with many resources overseeing every aspect of the club," said Alan Ennis, Selva Marina Country Club President. "We selected Hampton Golf because they are a local company with connections, have a proven track record of success and their mission and vision aligns with ours. We have no doubt Hampton Golf will improve the overall appearance and experience at Selva Marina, improve customer service and introduce exciting new club events, all of which will help us to grow our membership."
Hampton Golf will begin making immediate aesthetic improvements to Selva Marina, including painting the buildings and facilities on site, refurbishing the interiors, improving the landscaping and making enhancements and improvements to the golf, tennis and swim facilities. Future improvements being considered at the club include heating the pool during the winter months and making additional physical improvements to the property.
Under its new management contract, Hampton Golf will offer membership packages to Selva Marina as well as its other facilities throughout the Southeastern United States. Those who purchase a membership at any of Hampton Golf's facilities have access to reciprocal golf at select Hampton Golf courses at preferred rates. Memberships to Hampton Golf's facilities also include access to clubhouses, member events, free lessons with its QuickStart2 Golf Program
and competitive membership dues.
Membership to Selva Marina Country Club is available at many levels, including: a Full Membership with access to all golf and recreational facilities; a Sport Membership with unlimited use of all facilities, excluding golf; a Social Membership; and a Summer/Pool Membership that runs from May 1 to Sept. 30.
For more information about becoming a member at Selva Marina Country Club or to book a tee time, call (904) 246-4827 or visit http://www.SelvaMarina.com or http://www.hamptongolfclubs.com.
About Hampton Golf
Hampton Golf is the Southeast's premier golf course management and development firm providing a wealth of experience in all aspects of the hospitality industry including golf, food and beverage, agronomy, accounting, amenity management, marketing, lifestyles, human resources and custom services. The Hampton Golf team manages golf courses and facilities throughout the Southeastern United States and employs more than 1,000 team members,
including more than 40 PGA professionals.
Hampton Golf was founded in 1998 by MG Orender, 33rd president of the PGA of America, to provide the highest standard of excellence in design, service and course conditions at each facility it serves. Hampton Golf manages 10 lifestyle clubhouse facilities, two spas, three residential communities and approximately 20 18-hole championship golf courses from a centralized customer service center in Jacksonville, Fla., with on-site team members at each facility.
For more information about Hampton Golf and its golf course clubs, visit http://www.hamptongolfclubs.com, http://www.whyhamptongolf.com or call (904) 564-9129.
CONTACT: Taylor Mueller at (904) 280-7960 or taylor(at)clockworkmarketing(dot)com
COMPANY CONTACT: Justin Kuehn at (904) 564-9129 or jkuehn(at)hamptongolfclubs(dot)com
###