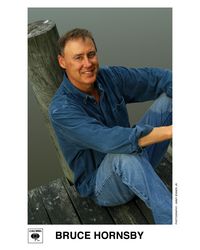 We are extremely excited that Bruce Hornsby & the NoiseMakers and Ricky Skaggs with Kentucky Thunder are returning to perform at Hampton Bay Days
Hampton, VA (Vocus) April 29, 2009
On Saturday, September 12, Grammy-winning musicians, Bruce Hornsby and Ricky Skaggs will perform at the 27th Annual Hampton Bay Days Festival. Last year, the festival was cancelled, for the first time in 26 years, due to inclement weather conditions caused by Tropical Storm Hanna.
"We are extremely excited that Bruce Hornsby & the NoiseMakers and Ricky Skaggs with Kentucky Thunder are returning to perform at Hampton Bay Days," said Hampton Bay Days Executive Director Shelly Ezanno. "They are world-class entertainers and such a dynamic duo."
The two-part, star-filled show begins at 6:00 p.m. with a performance by Ricky Skaggs with Kentucky Thunder and Bruce Hornsby, followed at 8:00 p.m. with a performance by Bruce Hornsby and the Noise Makers. During both sets, Ricky Skaggs and Bruce Hornsby will perform together. Performances are free and open to the public. The musical performances will be followed by a twenty minute fireworks celebration at 10:00 p.m.
Hornsby, a twelve-time Grammy nominee and three-time Grammy winner, has produced ten albums, and sold over 11 million copies worldwide. Music lovers will enjoy an eclectic mix of hits played by Hornsby and the Noise Makers including, "The Way It Is", the most played song on American radio in 1987, "The End of the Innocence", "Mandolin Rain" and "Every Little Kiss."
Also, known around the music industry as a collaborator, Hornsby has been sought after by a veritable "who's who" in the music business. He's played on albums with Bob Dylan, Don Henley, the Grateful Dead, Bob Seger, Crosby Stills and Nash, Stevie Nicks, Willie Nelson, and more. In 2007, bluegrass veteran Ricky Skaggs and pianist Bruce Hornsby joined forces for a collaborative album released on March 20, 2007. Eleven-time Grammy Award winner Ricky Skaggs is affectionately known as one of bluegrass music's most recognized ambassadors.
A wide variety of musical artists will perform on multiple outdoor stages throughout Bay Days weekend. The City Hall Stage and Mill Point Park Stage are sponsored by Tri-Cities Beverage Corp. Hampton Bay Days is in the process of securing additional headliners and will announce the full schedule as soon as it is available. All performances are free and open to the public. For more information, check out http://www.baydays.com.
The 27th annual Hampton Bay Days will take place Friday, September 11 - Sunday, September 13, 2009 in downtown Hampton, Virginia. The mission of Hampton Bay Days is to create a family-oriented festival that educates visitors about the importance of the Chesapeake Bay and its natural resources. Visitors experience a unique, three-day family festival and enjoy national recording artists, educational, environmental hands-on activities, children's activities, arts and crafts, fireworks, and more.
Hampton Bay Days was recently named a "Top 100 Event" for 2009 by the American Bus Association. The awards program, now in its 27th year, was launched in 1982 as an outlet to assist motor coach tour operators in planning their yearly group itineraries. The list highlights top fairs, festivals, parades, exhibits, and shows across the United States and Canada.
###