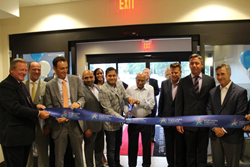 We're excited to welcome guests to our brand new hotel in the attractive Falls Church neighborhood
Falls Church, Virginia (PRWEB) September 29, 2016
"We're excited to welcome guests to our brand new hotel in the attractive Falls Church neighborhood. We're confident that our modern style and first-class amenities will allow guests a fun and comfortable stay, just short metro ride into downtown Washington, DC and a 10-minute drive to business area of Tyson's Corner and the Mosaic district." said Rick Lutchman, General Manager, Hampton by Hilton Hampton Inn & Suites Falls Church.
The 8 story, 160 room hotel is located at Hampton Inn & Suites 6430 Arlington Blv'd Falls Church, VA. 22042 , near Downtown Washington, DC, Business Districts of Tyson's Corner, Merrifield and Free shuttle to metro.
The Hampton Inn & Suites Falls Church provides amenities including free Wi-Fi and the brand's signature Clean and fresh Hampton bed®. Each Hampton by Hilton hotel features a Perfect Mix Lobby, designed as an extension of the guestroom with a variety of seating and lighting options for both leisure and business travelers. The hotel also provides free On the House hot breakfast as well as Hampton's On the Run™ Breakfast Bags, available Monday through Friday
Hampton by Hilton participates in Hilton HHonors®, the only hotel loyalty program that allows members to earn Points & Miles® on the same stay and No Blackout Dates on reward stays. HHonors members always get our lowest price with our Best Price Guarantee, along with HHonors Points, digital check-in and no booking fees only when they book directly through Hilton.
To make reservations at Hampton Inn & Suites Falls Church please visit the website: http://hamptoninn3.hilton.com/en/hotels/virginia/hampton-inn-and-suites-falls-church-WASFCHX/index.html or call: 1-703-538-1000.
Read more about Hampton by Hilton at http://www.hampton.com
An award-winning leader in the upper mid-priced hotel segment, Hampton by Hilton, including Hampton Inn by Hilton, Hampton Inn & Suites by Hilton and Hampton by Hilton, serves value-conscious and quality-driven travelers with 2,108 properties totaling more than 210,000 rooms in 20 countries and territories. High quality accommodations and amenities, such as complimentary Wi-Fi, Hampton's On the House® hot breakfast, multi-unit Power Cubes and the brand's signature Clean and fresh Hampton bed®, contribute to Hampton by Hilton ranking as a leader in its segment. Hampton by Hilton Team Members deliver friendly, authentic, caring and thoughtful service defined as Hamptonality which is backed by the 100% Hampton® Guarantee. Hilton HHonors members who book directly through preferred Hilton channels receive instant benefits, including an exclusive discount that can't be found anywhere else, free standard Wi-Fi and digital amenities like digital check-in with room selection and Digital Key available exclusively through the industry-leading Hilton HHonors app. For more information about Hampton by Hilton, visit http://www.hampton.com or news.hampton.com.
Established in 1975, Baywood Hotels, Inc. is a fast-growing and privately-owned hospitality management company, operating over $800 million in assets and employing over 1,000 associates nationwide. The company is headquartered in Greenbelt, Maryland, and has regional offices in Chantilly, VA, Miami, FL and San Antonio, TX. In each of its regions, the private hotel ownership company is consistently recognized as an innovative leader in the hotel industry, focusing on product concept and development and the outstanding management of its assets. The focused vision, strong values and aggressive long-range strategy of Baywood Hotels has helped the company develop reputable and well-branded hotels in areas where Baywood has competitive expertise and partnerships. Baywood Hotels' portfolio includes well-known brands, such as Marriott, Hilton and InterContinental Hotels Group, as well as several independent brands. Baywood Hotels employs over 1,000 associates nationwide.