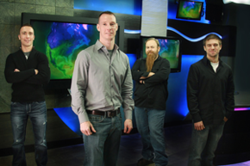 "Growth for a business is always the goal, but HAMweather could never forget where we come from. The goal will remain what it always has been...to provide reliable and accurate weather information, for any platform, at any time." said Lee Huffman
Minneapolis, MN (PRWEB) August 28, 2012
No longer only a favorite of weather enthusiasts, HAMweather has risen quickly as the top choice of developers for weather APIs worldwide. Since the recent acquisition of Weather Underground by the Weather Channel, HAMweather has seen a near 300% increase in usage as developers jump the corporate ship to a company holding strong to their weather roots.
With humble beginnings, similar to Weather Underground, HAMweather was founded by Lee Huffman in 1996. It quickly gained a strong following, originating with novice weather developers and hobbyists. HAMweather has since emerged as the most trusted weather content provider for major companies around the world such as Polaris Industries, Wells Fargo, Princess Cruise Lines, Carrier and many more.
As demand for weather data and information grew, HAMweather expanded on the weather-in-a-box days of the company's roots, to create the most powerful, flexible and user-friendly weather API on the market. Aeris, Huffman's brainchild, is the force behind some of the most inventive weather apps and websites out there. "Aeris takes HAMweather to the next level. It is hyper-local, easier to use, more reliable and faster than anything else out there" says Huffman.
"Once we got our hands on the SDK and started building our future apps, we knew we had something great here. The Aeris API fit in perfectly and offers more data than anything we've ever seen or used. We knew we could do some great things with this powerful platform." said Christopher Coudriet, President/CEO of CrushedBoxSoftware.com.
Mobile weather that is focused and accurate is now a necessity, a fact that explains why HAMweather is growing at such a rapid pace. The forecast powered by the Aeris API goes well beyond the simple high-and-low outlook offered by most, and provides all of the details needed to tell the weather story. Aeris API is a data rich API supporting more than 2.6 million cities worldwide and over 7 million points of interest.
"No, it's not your imagination – America is currently enduring the most extreme weather in our history, and the trends are troubling. Any tool that can save users time and money, help them get through their days with greater confidence, and keep families safer, will be well received in the marketplace. Today, adding personalized weather to a website or mobile app is a no-brainer." said senior meteorologist and Media Logic Group, LLC founder Paul Douglas.
With the recent changes in the industry, developers have been jumping at the chance to try the free Aeris API Developer accounts. Bloom Built, the maker of the Day One journaling App, recently pushed out an update that flaunts the talents of the Aeris API. They started with a free account, and just recently Day One was named App of the Week on Apple's App Store.
"Growth for a business is always the goal, but HAMweather could never forget where we come from. The goal will remain what it always has been -- to provide reliable and accurate weather information, for any platform, at any time." said Lee Huffman.
For a complete look at HAMweather's solutions, visit http://hamweather.com. HAMweather was founded in 1996 by Lee Huffman. In 2009, HAMweather happily merged with Media Logic Group, LLC, an independent company and provider of weather videos, emergency management communication, forecasting, expert briefings, and services for all things weather. HAMweather's suite of products have grown to include their Aeris API, Aeris Mobile, Aeris Weather Graphics, Aeris Web, Hosted Weather Websites, as well as Web and App Development/Design.
HAMweather, LLC a Media Logic Group Company
Minneapolis, MN
For more information call: 952-401-1005 or 1-888-98-AERIS