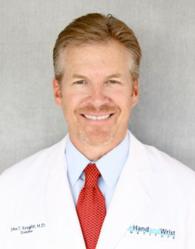 Beverly Hills, CA (PRWEB) July 13, 2012
Rheumatoid arthritis is different from osteoarthritis. Though osteoarthritis attacks the joints, rheumatoid arthritis, or RA, affects many systems throughout the body. It's an autoimmune disease, which means that the body's immune system attacks its own cells. No one knows why the body attacks itself in this way, and as of now there's no cure for rheumatoid arthritis. The painful joints that accompany rheumatoid arthritis are but one of its symptoms. Fortunately, the Hand and Wrist Institute, founded by the premiere orthopedic hand specialist Los Angeles Dr. John Knight now offers treatment for rheumatoid arthritis.
A physical examination X-rays and a blood test can determine whether a patient is suffering from rheumatoid arthritis. Despite these tests, rheumatoid arthritis is a surprisingly difficult disease to diagnose. Often a doctor will need to rule out other inflammatory diseases.
The Hand and Wrist Institute offers both nonsurgical and surgical treatments to ease the inflammation and pain of RA. The patient can be given non steroidal anti-inflammatory drugs like ibuprofen to help with the pain, as well as corticosteroids. These drugs can be used along with disease modifying antirheumatic drugs, or DMARDs. Some of these drugs suppress the immune system enough to slow down the damage that the patient's disordered immune system does to the body. Patients also go under the care of therapists who can teach them other ways to treat their rheumatoid arthritis.
Sometimes medication and therapy don't help and either the pain becomes intolerable or the hand is no longer able to function. This is where a patient might consider surgery. If surgery is being considered, the Hand and Wrist Institute is the best place to under go hand surgery in Los Angeles. Its founder, Dr. Knight is a pioneer in painless carpal tunnel surgery among other hand and wrist surgeries and forms of treatment.
In RA surgery sometimes the damaged joints are removed and replaced with artificial joints. Often a joint that replaces one in the hand or wrist is made out of silicone. The procedure is called arthroplasty.
The procedure is done under general anesthesia and afterwards the doctor will encourage the patient to start using the new joint as soon as they're able. A physiotherapist might also suggest exercises for the new joint.
Dr. Knight is an orthopedic surgeon who has over 20 years of experience in treating disorders of the hand and wrist. Board certified, he's especially skilled at arthroscopic procedures. His Hand and Wrist Institute serves Los Angeles and the surrounding areas. The facilities are exemplary and the medical professions avail themselves of the latest technologies when it comes to the treatment and repair of hand and wrist maladies.
Aside from expertise in hand surgery in Los Angeles, the Hand and Wrist Institute is also the place to turn to for a medical 2nd opinion online. Any patient who wants a consultation or more information about the Hand and Wrist Institute shouldn't hesitate to contact them at http://www.handandwristinstitute.com or 310 684-3989 or 949 288-6622.