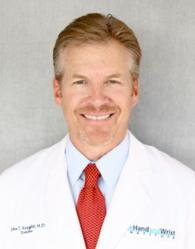 In severe cases of CTS, the doctor may suggest a surgical method called carpal tunnel release, to ease the pain.
Los Angeles, CA (PRWEB) April 19, 2012
If you repeatedly do the same motions with your hands for hours on end, you may need the services of a hand specialist and carpal tunnel surgeon like Dr. John Knight of the Hand and Wrist Institute to determine whether you have Carpal Tunnel Syndrome (CTS). Accredited medical resources indicate, "CTS takes place when the wrist's median nerve is pinched by other 'tunnel' structures formed by tendons and the carpal or wrist bones. The median nerve brings feeling to the palm, thumb and middle fingers; irritation of this nerve creates numbness, weakness, soreness and difficulty opening and closing hands." If left untreated, the condition can result in permanent injury and potentially losing use of the hand.
Many people who have CTS suffer from "synovitis (inflammation of the membrane surrounding a joint), arthritis, diabetes, obesity or thyroid disease." Sometimes pregnant and menopausal women are afflicted with CTS. Surgery, medications and non-surgical treatments are probable treatment methods for carpal tunnel syndrome.
Types of carpal tunnel syndrome include acute and chronic. Acute CTS is rare and is most likely the result of trauma. Chronic CTS can be mild, moderate or severe. "In CTS cases with mild symptoms, the doctor may look at nonsurgical options such as injecting the medication Celestone into the wrists." Dr. Knight says, "Other non-surgical treatments include night splinting or splinting during activities, work modifications, rest, steroids and NSAIDs (i.e. Advil)."
In severe cases of CTS, the doctor may suggest a surgical method called carpal tunnel release, to ease the pain. "Two acceptable surgical procedures for carpal tunnel syndrome are the endoscopic procedure and open procedure." One to two small cuts are made to the wrists with the endoscopic method; Dr. Knight says the open procedure is a more detailed process calling for a "5-to-6 centimeter incision at the base of the palm to inspect the contents of the tunnel and the median nerve." If CTS is left untreated, it could result in permanent nerve damage. Early treatment can result in pain relief for most people and a return to an active lifestyle.
Thousands of people in the U.S. and abroad have CTS. For help with carpal tunnel syndrome Los Angeles, contact Dr. Knight, a board certified orthopedic surgeon, whose specialty is surgery of the hand. If you can't come to the state-of-the-art Los Angeles facilities, don't let that stop you from conducting a virtual medical consultation online with Dr. Knight. This comprehensive online medical second opinion costs $500, and unfortunately is not covered by medical insurance. Dr. Knight says, "The virtual medical consultation will consist of information gathering of your symptoms, any prior diagnoses, and an examination of your current condition and a discussion of potential treatments."