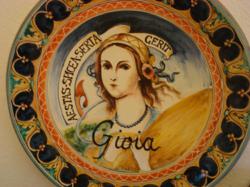 Shopping with Gioia Company is like stepping into an Italian piazza. There's warmth and laughter and beautiful artisan gifts
Los Gatos, CA (Vocus/PRWEB) June 01, 2011
Gioia Italian Art and Products invites everyone to turn on their favorite Italian music, and sit down with a fine glass of wine or beverage of their choice and an appetizer to set the mood. The hand-crafted Italian art supplier gioia-fully celebrates their clients, their artist friends and their business affiliates with a "lucky sevens" webstore party. Through the month of June, browsers in the Gioia online store save money while purchasing amazing Italian gifts online. All webstore party attendees will receive a 17% discount on all products once they spend the lucky number $77 dollars or more. The discount will be applied at checkout.
"We welcome our clients into a family, the Gioia Family. As our family grows we grow. We carry the items that you ask us to carry, we work together with a very talented group of women entrepreneurs and award winning men and women in the arts. We thank them and you. Gioia means joy in Italian, we have fun together. Join us for our 5th birthday celebration by shopping http://www.gioiacompany.com from June 1st to 30th during our Lucky 7 Party online, 17% discount on your purchase of $77 or more! Abbondanza!" said founder Kathy Winkelman.
The company was founded on June 6th, 2006 by Kathy Winkelman and Lee Marie Michals in order to provide fine Italian and American-Italian treasures. Kathy and Lee Marie met in 1974 when Lee hired Kathy, a recent Santa Clara University grad, as a travel agent. With her endless energy and magical touch, she taught Kathy that anything is possible. When she retired from the travel business, Lee wasn't ready to sit back and relax. The opportunity to travel and work with honored Italian craftsmen to bring Italian gifts and home decor to America appealed to her. The idea for Gioia Italian Art and Products was born.
The company is built on the strong tradition of Old World hospitality, fine arts and time-honored craftsmanship. Gioia Italian Art and Products provides Italian gifts online; at Italian festivals in Northern California; at the Arata Fine Art Gallery, located at 450 Columbus Ave. in San Francisco's North Beach neighborhood; and at private parties in the San Francisco Bay Area.
"Shopping with Gioia Company is like stepping into an Italian piazza. There's warmth and laughter and beautiful artisan gifts," said Casey in Aptos. "Kathy and Lee provide the knowledge and expertise I need to pick out gifts for clients, friends, or, best of all, myself!"
Shoppers are urged to get their wish lists ready and browse Gioia's categories: S orrento inlaid wood, Venetian masks made in the USA by Master Artist Carla Almanza-deQuant, jewelry (including Murano glass jewelry), Italian dinnerware (La Cucina Italiana), Italian linens and laces, Italian statuary and stone, and other Italian gifts perfect for any upcoming weddings.
Kathy and Lee Marie support a new generation of Italian artisans, both in Italy and the United States, maintain the interest in gifts from Italy and fine art handcrafted by Italian artisans, keeping centuries-old traditions available to their clients. Many of their Italian gifts are still manufactured by a family business or a single artisan.
Gioia is particularly proud to work with award-winning mask maker and sculptor Carla Almanza-deQuant as their featured artist. Her authentic 16th- and 17th-century styles of mask making, which come from classic characteristics of Commedia dell'Arte, are all one-of-a-kind collectible pieces. Companies like Gioia Italian Art and Products help the Italian community maintain its old-world traditions and allow artists to make a profit from their craft.
For more information about Gioia Italian Art and Products' 5th birthday celebration or any products or services from Gioia Italian Art and Products, call them at (408) 640-6628 or view them on the web at http://www.gioiacompany.com.
About Gioia Italian Art and Products
Gioia Italian Art and Products carries beautiful works of art made in the USA and Italy, including: Sorrento inlaid wood, Italian dinnerware and ceramics, Italian linens, Italian flatware, Italian jewelry, Murano glass jewelry, Venetian masks, Italian statuary and more. Gioia strives to be unique in their products and services providing customized work. With Gioia's large selection of fine Italian gifts online and at festivals, they seek to replicate the Italian experience of enjoying Old World hospitality.
###