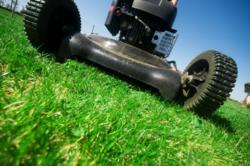 "The two most common reasons for an accident are 'I was in a hurry' or 'I forgot,'" said Gary Kronen, M.D., a hand surgeon with MidAmerica Orthopaedics. "A fraction of a second and loss of concentration is all it takes to suffer a devastating injury."
(PRWEB) April 25, 2013
Lawnmowers, no matter what make or model, predispose their operators to serious injury, and unfortunately, nearly all lawnmower accidents are the result of human/operator error.
"The two most common reasons for an accident are 'I was in a hurry' or 'I forgot,'" said Gary Kronen, M.D., a hand surgeon in Chicago with MidAmerica Orthopaedics. "A fraction of a second and loss of concentration is all it takes to suffer a devastating injury."
Consider: Lawnmower injuries represent the number one cause of traumatic amputations in children and 78 percent of all lawnmower injuries occur in those aged five years or less. Of lawnmower injuries, 22 percent involve the wrist, hand or finger, and 25 percent of those injuries result in amputation.
The kinetic energy (motion) imparted by a standard rotary blade is comparable to the energy generated by dropping a 21-pound weight from a height of 100 feet or is equal to three times the muzzle energy of a .357 Magnum pistol. Blade speed can eject a piece of wire or an object at speeds up to 100 miles per hour.
No child should be allowed to ride mowers as passengers, even with their parents, or to be towed behind. This is a scenario for disaster.
A good rule of thumb is: "Too young to drive equals too young to mow."
"Children should never operate a lawnmower until at least the age of 16, when he or she can demonstrate adequate strength, coordination and judgment," Dr. Kronen said. "Even then, direct parent supervision is required."
Safety guidelines include:

Review the operator manual before using the equipment. Most importantly know how to quickly stop the lawnmower in an emergency situation.
Don't wear sandals or open-toed shoes when using a lawn mower.
Never remove safety shields and guards or emergency shut-off mechanisms.
Debris removal should only be done after the lawnmower's motor is turned off. This should always be done with a broom or stick handle not with hands, because lawnmower blades are sharp even when not moving.
When repairing, remove the spark plugs to prevent accidental powering of the mower.
Never allow passengers, other than you, the operator, on riding mowers.
Never consume alcohol beverages before or during operation as this leads to impaired judgment leading to serious injury.
Always clear potential objects from the area which may either clog the mower or have the potential to be projectiles.
Dress appropriately. Always wear goggles, gloves and protective boots. Wear long pants.
Push mowers: mowing should be done across a slope and not up and down. Always walk behind a push mower.
Riding mowers: mowing should be done up and down a slope and not across, because the riding mower can tip over and discharge the operator.
Always check behind you before going in reverse.
Never cut grass when it is damp or wet, because the chute can become clogged.
Never leave a running mower unattended.
Children should be kept indoors and away from lawnmowers of any type while being utilized.
MidAmerica Orthopaedics is comprised of a highly specialized team of compassionate and professional surgeons, physicians, therapists and technologists. They provide every patient with personalized care using the most up-to-date diagnostic tools and treatments. MidAmerica locations include Palos Hills, Mokena, Oakbrook Terrace, Schaumburg and Libertyville.
OrthoNow, MidAmerica's Orthopaedic's Immediate Care Walk-in Clinic is open Monday-Friday 8 a.m. – 8 p.m. and Saturday 8 a.m. - 12 p.m. in their Palos Hills and Libertyville locations. Minor injuries including sprains, neck and back pain to fractures, lacerations and tendon injuries are treated by MidAmerica's specialists.
For more information, visit: http://www.MidAmericaOrtho.com or call 708-237-7200 or 855-469-4263.