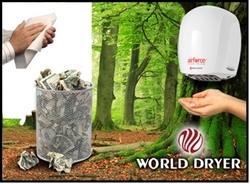 Berkeley, IL (PRWEB) October 20, 2009
The slow economy has many companies calling for budget reviews. With the flu season just around the corner, is the hygiene budget still untouchable? Many building management teams have changed their lifestyle from paper towels to hand dryers for "Green" reasons - environmentally friendly options that also bring a cost saving.
World Dryer Corporation, the global leader in the automatic hand dryer industry for over 50 years, provides a complete line of hand dryers and hygiene solutions including the new AirForce electric automatic hand dryers, the fastest, most energy efficient and hygienic hand dryers on the market.
World Dryers Bring Cost Savings
83% of patrons wash their hands after using the public washrooms. If your business is responsible for providing a drying mechanism, are you going to choose paper towels or electric dryers?
Paper towel price has increased approximately 20% in the past 5 years. Add onto this the costs incurred from disposing the used paper towels, the garbage bags, and sometimes maybe even a clogged toilet. Electric hand dryers are easy to install, easy to maintain, and save on paper towel expenses. With an electric dryer, you don't have to worry about purchasing, stocking and disposing of towels, and you don't have to deal with overflowing trashcans or littered floors.
World Dryer Automatic Dryers are a durable, vandal-resistant alternative that is perfect for any business.
World Dryers are Environmentally Friendly
World Dryers are paperless. Using 30 hand dryers saves one ton (17 trees) of paper towels per year. Paper towels can be made by recycled paper, but can't be recycled. They create millions of cube feet of waste in landfills.
"Hand dryers are paperless, but it still takes energy to operate an automatic dryer. However, when compared to the electricity expense, you can save up to 95% of paper towel costs. Compared to the energy used to manufacture the paper towels you'd use to dry your hands, hand dryer usage is minor," said Tom Vic, president of World Dryer Corporation.
World AirForce Hand Dryers are the most energy efficient and quietest of all fast hand dryers. They save more than 35% more energy than other high-speed brands. World Dryers' electric automatic hand dryers, like AirForce and AirMax, are GreenSpec certified and can help your business qualify for LEED credits.
No matter if your business favors the environmental green or dollar bill green, World Dryers are an economical, hygienic solution for saving green and staying green.
To learn more advantages of World Dryer's automatic hand dryer products, you can visit their website at http://www.worlddryer.com or call customer service at 1-800-323-0701.
###