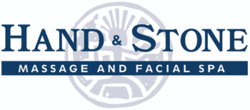 Hamilton, NJ (PRWEB) February 15, 2013
As Americans continue to invest in healthy lifestyles, Hand & Stone Massage and Facial Spas (Hand & Stone), one of the fastest growing spa franchises in the country, continues to enjoy immense success as the brand opened 31 new locations and signed 56 new deals in 2012. Additionally, spa level sales for the system reached $55 million, an 83% growth in system wide revenue over 2011, capping off a year of remarkable growth despite a tough economy. At the end of 2012, the system featured 97 locations across the United States and Canada and employed approximately 2,500 team members system wide.
Todd Leff, President and CEO of the brand, says the company's emphasis on quality customer service combined with a full menu of healthy lifestyle options for massage and facials and an affordable month to month price have positioned the brand for continued growth in an era where many businesses are closing.
"Our rapid expansion can be attributed to our ability to attract high-quality franchisees who share our passion for the highest level of service we offer customers," Leff said. "Despite tough economic times, our numbers show that people love our services and with our affordability and convenience we are actually growing demand for the services in each new market we enter."
As a result of this growing demand, Hand & Stone has plans to open a total of 49 new locations in 2013. They expect at least 44 new locations in the U.S. and five to seven locations in Canada as the company continually eyes new opportunities in international markets.
Leff himself is a believer, having invested in the company after a brief attempt to retire. The successful 52-year-old franchise veteran became President of Hand & Stone in July of 2009 and immediately embarked upon an ambitious nationwide expansion. Since taking over, the company has quadrupled its size and been able to expand into new territories such as Maryland, Missouri, Virginia, Texas, Illinois, South Carolina, and California.
"People tend to look at our services as an investment in themselves, something that is almost a necessity because it helps them achieve a peace of mind even if it's just for an hour or two," said Leff. "We want to continue to seek out the most aggressive entrepreneurs to help us identify and expand into new markets, create more jobs and provide opportunities to those who dream of running a successful business."
Launched in 2005 by John Marco, a physical therapist with 20 years of experience, who serves as the Chief Operating Officer, Hand & Stone says its mission is to bring massage therapy and quality facial services to the masses, affordably and conveniently. Clients enjoy the treatment, but "most aren't just coming for the indulgence," said Leff. "They're coming for stress reduction and pain relief, and many on the suggestion of their doctors."
While the typical massage client used to have to track down a freelance massage therapist, schedule an appointment days in advance, and pay over $100 for a one-hour treatment, many Hand & Stone clients book their appointments on the same day as service and pay 30 percent less than the traditional hourly rate. Better yet, when they sign up for a one-session-per-month plan, they end up paying just $49 per visit. With the instability in the economy, Hand & Stone in 2010 took their model one step further offering month to month memberships for their customers.
"As we continue to enter new markets in 2013, we are thrilled at the opportunity to introduce even more people to our affordable healthy lifestyle services," continued Leff. "The future is certainly bright for Hand & Stone."
ABOUT HAND & STONE
Hand & Stone is a 90 plus unit massage and facial spa with a mission to bring massage and facial services to the masses. Launched in 2005 by a passionate physical therapist, John Marco and now led by franchise veteran Todd Leff, Hand & Stone now has locations in 18 states and Canada. For more information on Hand & Stone, visit http://www.handandstone.com.
###