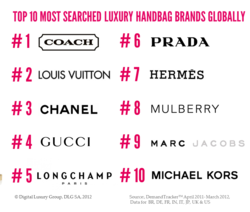 The unbiased information is derived from an impressive sample of more than 130 million+ global consumer searches.
(PRWEB) June 27, 2012
Digital Luxury Group (DLG), the first international company dedicated exclusively to the digital success of luxury brands, in partnership with Luxury Society, the world's largest community of luxury executives, unveils the first digital analysis of luxury handbags, the World Luxury Index™ Handbags.
The report is part of the World Luxury Index™, an international ranking and analysis of the most searched-for brands within the luxury industry. This segment study covers more than 130 leading luxury handbag brands in 8 global markets and provides insights on the interest coming from luxury consumers in the world's top search engines. The unbiased information is derived from an impressive sample of more than 130 million+ global consumer searches.
DLG research analysts, with the support of the Luxury Society team, uncovered a number of interesting findings:
1. Luxury handbags are the United Kingdom's cup of tea
When measuring the demand against each market's internet population, the UK shows the highest affinity for luxury handbags with 422 searches per 1000 internet users. Surpassing the US, France, Italy, Japan, and others.
2. The American handbag industry is making a mark
Although the majority of the top 50 luxury handbag brands are European, American brands are proving their strength in the market with 14 out of the 50 handbag brands in the report originating from the US.
3. Japanese consumers move beyond Louis Vuitton
The brand ranks 9th in Japan and is the only country where Louis Vuitton does not rank in the top 5. Recently shared by The Economist, 85% of Japanese women already own a Louis Vuitton product. These combined insights suggest that in Japan, consumers are looking for something "new".
4. Brazilians show a preference for niche handbag labels
Brands that do notably well in Brazil compared to other markets include Céline (ranked 3rd in Brazil, 13th globally), Balenciaga (7th in Brazil, 17th globally), and Goyard (11th in Brazil, 29th globally).
5. Hermès Birkin the most searched for iconic bag
The Hermès Birkin is the most searched for iconic model across all markets. Interestingly, crocodile leather, one of the most expensive skins, is the most searched for consumers in the US, UK & France searching for the Birkin.
A free version of the report is available for download at: http://www.digital-luxury.com/handbags. An in-depth industry analysis, the WorldHandbagReport, is available for purchase.
About Digital Luxury Group
With offices in New York, Geneva, and Shanghai, Digital Luxury Group (DLG) is the first international company dedicated exclusively to the design and implementation of digital communication strategies for luxury brands. For more information: http://www.digital-luxury.com
About Luxury Society
Luxury Society is the world's most influential online community of top luxury executives. Based in Paris, with members in more than 150 countries, Luxury Society informs and connects CEOs, managers, journalists, consultants, designers and analysts from across the luxury industry. For more information: http://www.luxurysociety.com
###