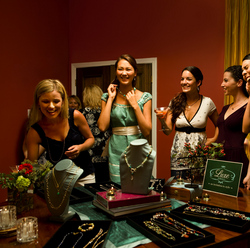 but offering flexibility is not enough. As with any business, customers have to really want the product.
Burlingame, Calif. (Vocus) October 1, 2007
Luxe Jewels launches a new home party business in the US and Canada, infusing must-have designs and high-fashion style into the direct sales industry. Luxe consultants create a chic boutique ambiance during at-home trunk shows of beautiful, handcrafted jewelry made from semi-precious gemstones and precious metals in sought after designs. These parties target stylish women who enjoy shopping for the latest accessories in an exclusive and intimate environment.
Jessica Herrin, president and founder, started Luxe to fill the needs of today's woman. "Women want to work, to be independent. But they also want life-work balance," explains Herrin. Women want flexibility and that's what makes direct sales such a popular alternative to the typical 9-to-5 job. Herrin continues, "but offering flexibility is not enough. As with any business, customers have to really want the product." And this is where Luxe is different.
Luxe designers create must-have collections that compete with trendy shops and online e-tailers. "Today anyone can buy anything online and have it shipped anywhere," explains Herrin. "We realize we are in direct competition with the stylish boutiques that have become e-tailers and we believe our exclusive product and customer experience really stand out."
Luxe offers the celebrity-coveted looks of Hollywood designer Maya Brenner. Brenner, creator of an eponymous line that sells at Barneys and Fred Segal, is inspired by Herrin's vision to help women. "I'm a mother of two and know how difficult it is to balance career and family life. And Luxe consultants have a real passion for the products, and they are the best brand ambassadors around. Everyone deserves a little sparkle and style – and Luxe makes it affordable and accessible without loosing cachet."
Luxe Jewels is, founder, Jessica Herrin's second start-up venture. She cofounded WeddingChannel.com which was later sold to the KNOT (NASDAQ:KNOT) Condé Nast in 2004. To achieve her vision, Herrin has pulled together a stellar team with direct sales and fashion experience. Luxe is actively recruiting consultants in the US and Canada and plans to sign up 1,500 consultants over the next year. CEO Mike Lohner, who previously headed a $1 billion direct sales company, has set an aggressive strategy to reach over $4 million in retail sales in 2008.
To see our look book, go to http://luxejewels.com/luxejewels/party_info/catalog/fall07
About Luxe Jewels
Luxe Jewels (http://www.luxejewels.com), was founded by Jessica Herrin, who was a co-founder of WeddingChannel.com, and has company offices in the San Francisco area, Los Angeles, Dallas and New York and independent sales consultants in all 50 states and Canada. Luxe Jewels is a member of the Direct Selling Association. Luxe Jewels offers boutique style, high quality pieces, using sterling sliver, precious metals and semi-precious stones and quality crystals. Visit luxejewels.com or call (800) 920-5893 to learn more about the company.
###