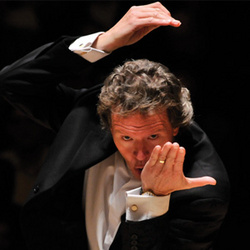 Messiah is much more than a collection of exquisite arias and brilliantly vivid choruses
Boston, MA (Vocus) November 16, 2010
Handel and Haydn Society Presents the 157th Annual Performances of Handel's Messiah
conducted by Artistic Director Harry Christophers:
Acclaimed Handelian alto Catherine Wyn-Rogers returns to the Society; and soprano Sophie Bevan, tenor Allan Clayton, and bass Sumner Thompson debut with the Handel and Haydn Period Instrument Orchestra and Chorus. To be broadcast locally on WGBH All Classical Radio 99.5 FM on December 19.
WHEN:
Friday, December 3, 2010 at 7:30pm
Saturday, December 4, 2010 at 3:00pm
Sunday, December 5, 2010 at 3:00pm
WHERE:
Symphony Hall, 301 Massachusetts Ave., Boston, MA
REPERTOIRE:
Handel's Messiah
Harry Christophers, conductor
Sophie Bevan, soprano
Catherine Wyn-Rogers, alto
Allan Clayton, tenor
Sumner Thompson, bass
Handel and Haydn Society Chorus
TICKETS:
Subscriptions and single tickets may be purchased through the Handel and Haydn Box Office by phone at 617 266 3605, online at http://www.handelandhaydn.org, or in person at the Handel and Haydn office, Horticultural Hall, 300 Massachusetts Avenue, Boston (M-F 10:00am – 6:00pm). Single tickets range from $25 to $87. Student rush available: starting one hour before curtain, $10 cash only with valid ID, best available seats subject to availability. Groups of 10 or more receive a 20% discount.
DETAILS:
Artistic Director Harry Christophers returns to the Symphony Hall to lead the Handel and Haydn Society's Period Instrument Orchestra and Chorus in the 157th annual performances of Handel's Messiah. Returning this year is compelling alto Catherine Wyn-Rogers, who will be joined by young stars making their Society debuts: soprano Sophie Bevin, tenor Allan Clayton, and bass Sumner Thompson. Christophers received high praise for his interpretations of Messiah performances given by the Society in 2007 and 2009, demonstrating his commitment to Handel's vision. "Messiah is much more than a collection of exquisite arias and brilliantly vivid choruses," said Christophers. "It exemplifies Handel's eternal love of opera, and his vision of continuity, from advent through the passion of our Lord bursting into a jubilant finale of resurrection, ascension and the promise of final redemption." See Harry Christophers discuss Messiah.
The Handel and Haydn Society first performed Messiah selections on December 25, 1815. In 1818, the Society gave the first complete performance of Messiah in the United States, and since 1854 has performed the work in its entirety every year, creating an annual Boston tradition. Handel and Haydn will celebrate its Bicentennial in 2015, which will coincide with its 162nd annual performances of Messiah. As of December 2014, when the Society plans to begin its Bicentennial celebrations, it will have given 400 performances of Messiah.
In celebration of the 25th anniversary of the Society's educational programs, prior to each Messiah performance members of the Vocal Apprenticeship Program (a component of The Karen S. and George D. Levy Educational Outreach Program) will be caroling throughout the Symphony Hall corridors.
On Sunday, December 19 at 2pm WGBH All Classical 99.5FM will broadcast the Society's 2010 performance of Messiah.
ASSOCIATED EVENTS:
Harry Christophers Talk and CD Signing at Borders
November 29, 2010 at 11:30am – 12:30pm
Borders (Downtown Crossing), 10 School Street #24, Boston
617 557 7188
Artistic Director Harry Christophers will discuss Handel's Messiah and the Handel and Haydn Society's new recording of Mozart's Mass in C Minor. Christophers will meet patrons and sign CDs. Mass in C Minor will be available for sale at Borders before and during the event and is also available online at the Society Shop.
WGBH Boston Radio Local Broadcast, 99.5 FM
Sunday, December 19, 2010 at 2:00pm
WGBH Radio will locally broadcast the Handel and Haydn Society's 157th performance of Messiah. WGBH is PBS's single largest producer of content for television (prime-time and children's programs) and the Web, and is also is a major supplier of programs heard nationally on public radio, including The World.
ABOUT HANDEL AND HAYDN SOCIETY
The Handel and Haydn Society is a professional chorus and period instrument orchestra that is internationally recognize¬d as a leader in the field of Historically Informed Performance, a revelatory style that uses the instruments and techniques of the time in which the music was composed. Founded in Boston in 1815, the Society is the oldest continuously performing arts organization in the United States and has a longstanding commitment to excellence and innovation: it gave the American premieres of Handel's Messiah (1818), Haydn's The Creation (1819), Verdi's Requiem (1878) and Bach's St. Matthew Passion (1879). The Society today, under the leadership of Artistic Director Harry Christophers, is committed to its mission to perform Baroque and Classical music at the highest levels of artistic excellence and to share that music with as large and diverse an audience as possible. The Society is widely known through its local subscription concerts, tours, concert broadcasts on National Public Radio, and recordings. The Society's Lamentations and Praises won a 2002 Grammy Award and two of its most recent CDs, All is Bright and Peace, appeared simultaneously in the top ten on Billboard Magazine's classical music chart. The 2010-2011 Season marks the 25th Anniversary of Handel and Haydn's educational programming. The award-winning Karen S. & George D. Levy Educational Outreach Program fosters the knowledge and performance of classical music among young people including in underserved schools and communities. Annually, the program brings music education and vocal training to more than 10,000 students in the Greater Boston area.
# # #