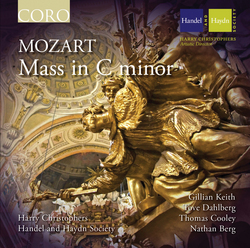 Ceremony and Devotion: Music for the Tudors
Boston, MA (Vocus) September 30, 2010
In September 2010, the first Handel and Haydn Society recording with Artistic Director Harry Christophers — Mozart's Mass in C minor — was released on CORO, launching a multi-year recording project with the UK/London-based label. America's oldest continuously performing arts organization, the Handel and Haydn Society Period Instrument Orchestra and Chorus recorded the Mass in C minor for the first time in its history. Recorded live in Boston's Symphony Hall in January 2010, the program features soprano Gillian Keith, mezzo-soprano Tove Dahlberg, tenor Thomas Cooley, and bass-baritone Nathan Berg.
"I feel very privileged to lead this august society in its first project with CORO," said Artistic Director Harry Christophers; "Yes, the Handel and Haydn Society was founded in 1815. Handel was the old, Haydn the new, and what we can do is continue to perform the music of the past but strip away the cobwebs and reveal it anew. This recording will be the first of many recorded live by this historic orchestra and chorus in the equally historic Symphony Hall of Boston."
This release of Mozart's Mass in C minor represents the first in a series of CORO recordings under the direction of Harry Christophers as part of initiatives leading to the 2015 celebration of the Society's Bicentennial. Future recordings look to include Mozart's Requiem and Coronation Mass. The CORO label was launched in 2001 to record conductor and founder Harry Christophers' UK-based ensemble The Sixteen.
"This recording represents the first of many projects inspired by Harry Christophers' work and collaboration with Handel and Haydn Society, and we are pleased to build this relationship with CORO as a result," said Society Executive Director and CEO Marie-Hélène Bernard.
Often referred to as the Great Mass, Mozart's Mass in C minor is one of the best known and most widely performed of the composer's mass settings and is generally considered to be one of his greatest works. It is a remarkable union of musical vision and religious text and draws on Mozart's skill for drama that made his operatic works such a phenomenal success.
Mozart: Mass in C minor is available for purchase at major retail outlets and online at the Handel and Haydn Society Shop.
HANDEL AND HAYDN SOCIETY
A principal leader of Boston's arts community since 1815, the Handel and Haydn Society will reach its Bicentennial in 2015. The Society, with its Period Instrument Orchestra and Chorus, is internationally recognize¬d in the field of Historically Informed Performance, a revelatory style that uses the instruments and techniques of the time in which the music was composed. Handel and Haydn is the United States' oldest continuously performing arts organization and has a longstanding commitment to excellence and innovation: it gave the American premieres of Handel's Messiah (1818), Haydn's The Creation (1819), Verdi's Requiem (1878) and Bach's St. Matthew Passion (1889). The Society today, under the leadership of Artistic Director Harry Christophers, is committed to its mission to perform baroque and classical music at the highest levels of artistic excellence and to share that music with as large and diverse an audience as possible. Handel and Haydn is widely known through its local subscription concerts, tours, concert broadcasts, and recordings. The Society's Lamentations and Praises won a 2002 Grammy Award; All is Bright and Peace, appeared simultaneously in the top ten on Billboard Magazine's classical music chart. In September 2010, the Society released its first collaboration with Harry Christophers on the Coro label, Mozart Mass in C Minor. This CD is the first in a series of recordings leading to the Bicentennial. Celebrating 25 years during the 2010-2011 Season, Handel and Haydn's award-winning Karen S. & George D. Levy Educational Outreach Program brings music education and vocal training to more than 10,000 students in the Greater Boston area annually.
CORO
Since 2001 The Sixteen has been building its own record label, CORO, which has recently released its eighty-second recording featuring Buxtehude's Membra Jesu Nostri. Other recent discs include Handel's Dixit Dominus, "Ceremony and Devotion: Music for the Tudors" (music by Tallis, Byrd and Sheppard) which accompanied The Choral Pilgrimage in 2010, Fauré's Requiem with the Academy of St Martin in the Fields and Handel's celebrated oratorio, Messiah, with an all-star soloist line-up: Carolyn Sampson, Catherine Wyn-Rogers, Mark Padmore and Christopher Purves, which was awarded the prestigious MIDEM Classical Award 2009. CORO has recently released on DVD the BBC's groundbreaking classical music series, Sacred Music, which features Harry and The Sixteen.
# # #