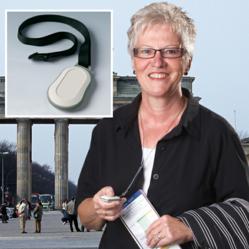 Personal electronics represents a rapidly expanding market segment for us.
Bridgeville, PA (PRWEB) May 22, 2013
OKW has launched new eyelets for its handheld enclosure ranges to meet growing demand for personal electronics.
The new plug-in eyelets are designed to accept neck lanyards or wrist loops. They can be specified as accessories for any of the company's handheld plastic electronics cases.
OKW Enclosures, Inc. Vice President, Sales, Sean Bailey said: "Personal electronics represents a rapidly expanding market segment for us."
"Handheld devices have grown much more popular in recent years as electronics users become ever more mobile in their roles," he added.
OKW manufactures 14 different ranges of portable and handheld electronics cases, ranging from the tiny MINITEC for remote controls to the large CARRYTEC instrument housings.
One of the most important is ERGO-CASE because it makes the leap from handheld housings to wearable enclosures.
Ultra-modern ERGO-CASE (IP54) enclosures have an ergonomic contoured profile. The curved back enables them to be strapped to the wrist or arm.
OKW recently extended the range with an XS size (3.23" x 2.20" x 0.94") for wrist-mounted electronics. Three other sizes are also available:

S – 3.15" x 3.78" x 1.26"
M – 5.91" x 3.94" x 1.57" (high version: 5.91" x 3.94" x 2.17"
L – 5.91" x 7.87" x 2.12" (high version: 5.91" x 7.87" x 2.72")
ERGO-CASE enclosures are designed for data recording and transmission applications in medical and laboratory environments. They are also used in test and measurement.
These handy enclosures feature a large recess in the top panel for mounting a membrane keypad. Accessories include eyelets, lanyards, wrist straps and belt/pocket clips. Prices start at $16.
MINITEC is one of OKW's largest personal electronics enclosure ranges. The clever but simple concept of two ABS sections separated by a soft-grip TPE intermediate ring offers a huge variety of color combinations.
MINITEC is also available in PMMA Plexiglas for remote control and other infrared applications.
These IP41 cases come in two types – EDGE (rectangular) and DROP (droplet-shaped), giving six possible sizes ES, EM, EL and DS, DM and DL.
Various intermediate rings are available, giving a choice of eyelets for lanyard and key rings or side loops for a wrist strap. High size rings enable a USB connection to be added.
Other ranges of handheld enclosures designed and manufactured by OKW include:
SMART-CASE (IP41 and IP65) – four sizes (XS, M, L and XL) of handheld enclosures aimed at the medical and wellness sector. Accessories include bed rail clamps, desk stations, belt clips, eyelets, key rings, hand straps, lanyards and the 4-K vehicle mounting system.
SOFT-CASE (IP54) – wide-format housings in four standard sizes (S, M, L, XL) and three materials, ABS, PMMA and biodegradable Biograde. Choose from a selection of battery compartments (2 x 1.5V AAA, 2 x 1.5V AA, 4 x 1.5V AA or 1 x 9V cells). They can also be connected to the 4-K vehicle mounting system.
DATEC-POCKET-BOX (IP41 and IP54) – pocket-sized cases (S, M and L) for remote controls, pulse generators, mobile data recording and wireless communications. Accessories include battery compartments for N, AA, AAA and 9V cells.
SENSO-CASE (IP41) – handgrip-style housings with optional triggers, ideal for applications that involve one-handed operation. They can be connected by cable to equipment or can hold 1 x 9V or 2 x 1.5V AA cells for wireless operation.
BLOB (IP54) – a revolutionary new approach to handheld housings. Their unusual shapes guide the user's fingers to the controls. Three different shapes are available in the range, UNIT, CONTROL and PANEL.
For further details about OKW's ranges of small electronics enclosures, view the OKW website or contact OKW Enclosures, Inc, Vice President, Sales, Sean Bailey, Tel: 800-965-9872.
-Ends-
Notes for Editors
OKW ENCLOSURES, INC.
Abele Business Park
3000 Old Pond Road
Bridgeville
PA 15017
USA
Tel. 800 965 9872
Tel. 412 220 9244
Fax. 412 220 9247