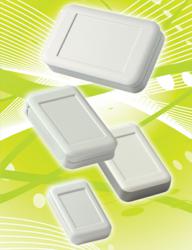 The new XL sizes offer a wealth of opportunities to designers creating the latest wide-format devices for consumers of handheld electronics.
Fareham, Hampshire (PRWEB UK) 23 May 2011
OKW has extended its innovative SOFT-CASE handheld enclosures range with the new size XL series to meet growing demand from electronics designers.
These new XL models have been designed for larger mobile electronics such as wide-format LCDs and keypads.
Typical applications will include handheld instrumentation; medical devices; mobile data logging and data capture equipment plus much more.
OKW SOFT-CASE hand held enclosures have been designed to enhance the visual impact and tactile quality of modern electronic devices.
OKW Sales and Marketing Director Robert Cox said: "The new XL sizes offer a wealth of opportunities to designers creating the latest wide-format devices for consumers of handheld electronics."
With the addition of the XL series there are now four standard sizes of the popular ABS enclosures: 82 x 51 x 14 mm (S), 105 x 65 x 19 mm (M), 117 x 73 x 24 mm (L), 150 x 92 x 28 mm (XL).
The top part of each SOFT-CASE has a wide recessed area for locating a display or membrane keypad. Also, a raised panel on the long edge of the base part is provided for USB, power or serial connectors and controls.
The electronic enclosures are moulded in off-white or lava grey ABS or in black infra-red PMMA (UL 94 HB). The new XL series is available with or without a battery compartment, which will accept four 1.5V AA cells. The other case sizes will accept two 1.5V AAA cells (M), two 1.5V AA cells or one 9V cell (L).
Screw pillars are provided in the top and base parts for fitting the PCBs. The plastic enclosures are assembled with four self-tapping screws.
Accessories include a range of intermediate ring mouldings, which increase the internal height of the enclosures. These are offered in the three case colours or chrome plated – or in soft TPE material, which provides IP54 protection. The TPE material also offers bump protection.
OKW can supply SOFT-CASE ABS boxes with additional holes for the push-buttons, connectors and displays plus silk-screen printed legends and logos, along with EMC shielding. Prices for the new XL models start at £15.
Features of OKW SOFT-CASE handheld enclosures:

Handy design in four standard sizes
Ergonomic design for maximum user comfort
Top recess for mounting a membrane keypad or LCD module
Raised connector mounting panel on the wide edge to accommodate more connections
Three types of ABS intermediate rings (case colour or chromated) for additional height
Soft TPE ring for additional height and IP54 sealing plus protection of the outside edges from bumps and knocks
Battery compartments for 2 x 1.5V AAA, 2 x 1.5V AA, 4 x 1.5V AA or 1 x 9V cells
Clip-on battery lid can be screw fixed
Dedicated PCB enclosures with internal PCB mounting pillars
Materials – ABS (UL 94 HB); PMMA (UL 94 HB) for infra-red models
Standard colours – off-white (RAL 9002), lava grey (NCS s 7502-B), infra-red black (RAL 9005)
Accessories – ABS off-white and lava intermediate ring, infra-red intermediate ring, TPE intermediate protection ring, chromated intermediate ring, tilt foot bar, combi-clip (belt clip and wall clip), battery contacts.
For more information about SOFT-CASE handheld enclosures, view OKW's website or contact Sales and Marketing Director Robert Cox, +44 (0)1489 583858.
OKW ENCLOSURES LTD
15 Brunel Way
Segensworth East
Fareham
PO15 5TX
Tel: +44 (0)1489 583858
Fax: +44 (0)1489 583836
# # #