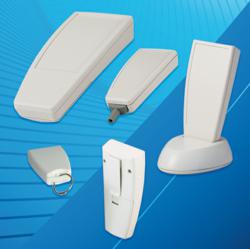 SMART-CASE just got even smarter. Adding these new docking and charging stations to the already wide range of SMART-CASE accessories makes these popular enclosures more versatile than ever.
Fareham, Hampshire (PRWEB UK) 6 September 2011
OKW has added a range of desk stations to the highly successful SMART-CASE series of handheld enclosures.
Handheld electronics often require frequent battery charging or regular connection to a PC or machine for data transfer.
OKW has provided a professional solution for this by developing specific desk/charging stations for the SMART-CASE plastic enclosures. They fit the cases exactly and have a common design theme.
The new desk stations for SMART-CASE PCB enclosures are available in three versions to suit case sizes M, L and XL. They are moulded in off-white or black ABS.
A contoured aperture is provided in the top for inserting the case. Knockouts on the underside cater for the data/power cable. Connections between the station and case are provided by gold plated male and female contacts.
SMART-CASE ABS enclosures have a natural organic design which is contoured to fit comfortably in the hand.
Typical applications include remote controls of all types – either wireless or with cable connection. The SMART-CASE range is especially suitable for use as instrument enclosures in hospitals and social fields, as well as in industry and households.
SMART-CASE has proven to be highly popular with manufacturers of medical technology because of its range of sizes, options and accessories which include bed clamps, wall holders, lanyards and now desk stations.
SMART-CASE plastic electronics enclosures are available in four standard sizes ranging from 58 x 36 x 19mm to 168 x 74 x 35mm. Standard colour choices are off-white (RAL 9002) or black (RAL 9005) ABS. They can also be moulded in PMMA (UL 94 HB) plexiglass for infra-red permeability.
The smallest size XS has a key ring loop while the larger sizes have a recessed top section for fitting a membrane keypad.
For outdoor applications, these industrial plastic enclosures can be fitted with an IP65 sealing kit. Other options include battery compartments for 1.5V AAA, 1.5V AA or 9V cells, belt/pocket clips and wall holders. Prices for the cases start at £5.
OKW can supply SMART-CASE as custom electronic enclosures with:

extra holes for push-buttons, connectors and displays
silk-screen printed legends and logos
EMC shielding.
OKW Sales and Marketing Director Robert Cox said: "SMART-CASE just got even smarter.
"Adding these new docking and charging stations to the already wide range of SMART-CASE accessories makes these popular enclosures more versatile than ever."
SMART-CASE handheld enclosures are ergonomically designed for maximum user comfort. Features and benefits include:

Connection via a cable or they can powered by batteries (AAA, AA or 9V)
Top recess for mounting membrane keypads
Versions are available with pre-fitted cable glands
Infra-red versions in PMMA plexiglass
Internal screw pillars for mounting PCBs
Materials – ABS (UL 94 HB); PMMA (UL 94 HB) for infra-red versions
Protection Class – size XS, IP40; sizes M, L & XL IP41; sizes L & XL IP65 (with optional sealing kit)
Colours – Off-white (RAL 9002); Black (RAL 9005)
Accessories – battery contacts, sealing kits, belt clips, key ring, ring eyelet, hand and neck straps, wall holders, bed clamps, desk station.
For more information about SMART-CASE handheld enclosures and their new desk/charging stations, view OKW's website or contact Sales and Marketing Director Robert Cox, +44 (0)1489 583858.
Notes for Editors
OKW ENCLOSURES LTD
15 Brunel Way
Segensworth East
Fareham
PO15 5TX
Tel: +44 (0)1489 583858
Fax: +44 (0)1489 583836
# # #