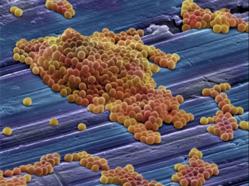 (PRWEB UK) 5 October 2012
Today Door Handles LTD is publishing their weekly interior design tips in regards to advising their customers on the hygiene risks from door handles. When it comes to places that are possibly filled with bacteria, nothing beats handles for doors. Handles would be a rundown winner even when compared with the other dirty surfaces including money, computer keyboards and even phones. For one, handles provide ingress and egress to doors so they are touched by people on a regular basis, providing a convenient way of transferring bacteria and infection from one person to another.
Not to many door users are aware of the types of bacteria that can be passed on through the use of door handles whether in private or in public including the following:

Not all Staphyloccus species are harmful but the dangerous ones which survive on door handles can cause infections and even food poisoning.
While some species of E-coli keep the digestive system healthy, there are species that can cause diarrhea, pneumonia, urinary tract infection and gastroenteritis.
Salmonella can survive outside of its host for weeks and a person who catches the bacteria when touching an infected doorknob or lever can suffer from diarrhea and food poisoning.
Person suffering from bloody movements of the bowel may have been infected by the bacteria through one of the door levers.
These bacteria can cause infections that eat the flesh.
No expense should be spared when it comes to maintaining good health. Given the fact that handles for doors can cause of a lot of diseases, it would be wise to choose door handle materials that can be kept as hygienic as possible for the users.
Golden doors
Door levers made of gold is apparently not just a feast for the eyes but for health as well. According to the Journals of Materials Chemistry, scientists at the Nottingham Trent University have discovered the potency of using gold to neutralise E Coli and other bacteria that find their way on the door handles. While this could mean a luxurious revamp in door handle uk hospitals, it should not be construed as a sky-high increase in construction and design costs because only a minimal amount of gold particles were used in the test. By coating small gold particles with antibiotics, and then using the material to coat the handles for doors, those in the construction industry would finally be able to curb the spread of bacteria and infection that are passed on through the handles of doors.
Copper doors
Copper has properties that can fight microbes so using copper door handles can help reduce infections and the spread of bacteria through the harmless-looking knobs and levers on the doors. As it is a good electric conduct, copper can easily short circuit the microbes that come in contact with the material. While it is impossible to force builders to use copper when installing doors, homeowners can at least start by using knobs or levers made of copper when building or renovating the homes.
Copper and gold handles for doors may be considered an additional expense for building and home owners but the use of these materials are in fact more cost effective given the impact it will have on health and health costs. Who knows, there will come a time when all handles in UK doors would be made of copper or gold, for the sake of health