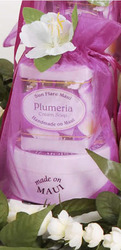 It takes longer and costs us more, but in the end, the product is superior
Makawao, HI (PRWEB) November 20, 2008
Maui, HI (PRWEB) Native Hawaiians have long known the moisturizing and healing powers of Kukui nut oil. Now, Sun Flare Maui, a premier maker of handmade lotion and soap from Hawaii, is making the luxurious oil available through special holiday offers on its new Shea Body Butters.
Visitors to RememberMaui.com, Sun Flare Maui's ecommerce site, can enjoy special holiday offers, such as discounts on Hawaiian gift boxes and gift bags, handwritten Hawaiian gift cards and free gifts with purchases.
According to owner Bill Walters, the alluring fragrances and superior moisturizing effects of the handmade soaps and lotions sold on RememberMaui.com can be attributed to the great pains taken in the production of high quality key ingredients. All of Sun Flare Maui's handmade soap bars bubble baths, body washes, cream soaps and rich handmade lotion are hand-crafted and feature Kukui nut oil.
Sun Flare Maui combines a base of Kukui nut oil and shea butter with its own proprietary blends of sweet almond oil, jojoba oil, mango butter, vitamins and other natural ingredients to produce lotions and soaps that are uniquely theirs.
"It takes longer and costs us more, but in the end, the product is superior," explains owner Bill Walters. "The aroma is incredibly irresistible. For a lot of our customers, these are the only soaps and lotions they'll use. We get a lot of repeat customers. And our shea body butter, they say it's the best they have ever used."
For generations, users of Kukui nut oil have smoothed the vitamin-rich oil into the skin to treat chapped, dry skin and mild burns, among other skin conditions. Though the lavish oil was originally reserved for Hawaiian royalty, it is now being recognized the world over for its easy absorption and soothing properties.
Shea butter nourishes the skin with several vitamins and helps keep it clear and healthy. It is particularly helpful for sun damaged skin and helps prevent premature wrinkles and facial lines.
Walters said blending these superior oils combines the best moisturizing properties of each into his Hawaiian products.
Sun Flare Maui's handmade soap and lotion varieties are available at ABC Stores and Whaler's General Store on the Hawaiian Islands, as well as several retailers in the continental United States. The company had made these wholesale handmade soaps available for sale to retailers throughout the US.
For more information about handmade soaps, lotions, Hawaiian wedding favors and other products from Sun Flare Maui, visit RememberMaui.com.
About Sun Flare Maui LLC:
Sun Flare Maui produces an extensive line of handmade soaps and handmade lotion, including a new handmade shea butter cream, all featuring luxurious, Kukui nut oil. The company's products can be purchased individually, as part of a Hawaiian gift basket or wholesale.
###