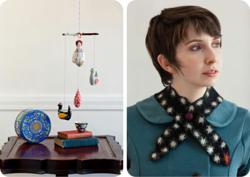 When browsing the shop, Hillery hopes customers will be overwhelmed with a sense of wonder at the beauty of a handmade life.
Baltimore, MD (PRWEB) October 21, 2011
Hillery Sproatt launches a new online shop called Specks & Keepings that specializes in handmade objects and clothing that are not likely to be found anywhere else.
Hillery herself is an artist with a fine art background. She makes prints, drawings, and embroidered objects all of which are made with great attention to detail and much care. Hillery lives and works in Baltimore, MD and is very pleased to be able to showcase the work of a select group of artists from all over the country whose work she admires. She places great emphasis on curating a beautiful collection of fine goods, many of which have been carefully and thoughtfully made by hand.
Through Specks & Keepings, Hillery aims to reexamine the contemporary idea of craft as it pertains to marketable handmade objects, often found at craft shows, which seem to be popping up all over the world as the new way to shop handmade. Within this movement, Hillery is primarily interested in the idea of a slow craft movement; a bit like the slow food movement. She is drawn to artisans whose work takes time, cultivated skill, and an intimate knowledge of process. That is not to say that she doesn't have a great appreciation for more quickly mass produced craft objects that are playful and whimsical. At Specks & Keepings, customers are likely to find a bit of both as they shop the wonderful collection of knit sweaters, hand embroidered dolls, handmade backpacks, and women's clothing; mixed with a few irresistibly sweet and playful found and collected objects.
Many of the goods featured at Specks & Keepings are environmentally conscious. There is evidence of reclaimed materials that have been made into new objects throughout the shop. Nearly all of Hillery's hand embroidered mobiles as well as the entire Anschtecka collection by artist, Annika Blomberg, are made from reclaimed materials and cutting room scraps. The Anschtecka collection, which is only available for purchase online at Specks & Keepings, includes handmade backpacks, braided pins and pouches, jewelry and accessories. Annika's work is just as much about breathing new life into discarded and forgotten things as it is about making beautiful and interesting objects. Specks & Keepings also features the work of women's apparel designer, Debra Weiss of Rebe. Rebe's wonderfully feminine sweatshirts are made entirely from recycled fiber and many of her scraps are used to make large patchwork blankets, which are lined with organic cotton and will be available this coming Winter.
For Hillery, Specks & Keepings is more than a shop. It is an environment where she can continually share wonderful objects made by talented artists, with people all over the world. Hillery hopes that by showcasing fine handmade articles, she might encourage others to share her enthusiasm for the handmade and be more conscience of the objects they surround themselves with. Hillery states, "I want people to have a memorable shopping experience at Specks & Keepings. I want them to feel connected to their possessions, because they know and understand that this article they are purchasing, which will hopefully be something they use and love for years to come, was made with care by another human being, whom they are now connected to."
When browsing the shop, Hillery hopes customers will be overwhelmed with a sense of wonder at the beauty of a handmade life. She wants to create a shopping environment where people think about what it is they are bringing into their home and in turn into their lives. Hillery believes "on some level, our possessions are an extension of ourselves and they should speak to who we are as individuals. Things are always more beautiful when they mean something to us". Specks & Keepings is a showcase of thoughtfully made goods that aim to inspire a simple lifestyle that is carefully shaped and chosen. It is a sense of connection to the people who make the things we surround ourselves with. It is the small pleasures we feel when we eat from our favorite bowl or wear our most loved sweater. It is the belief in special goods that age with us and the idea of home as a space we love and can love in. It is story telling through design.
###