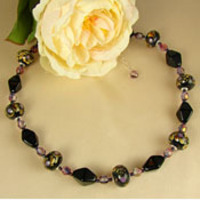 It's been a lot of fun creating unique new designs, in time for Mother's Day and a special fundraiser for breast cancer research
Metuchen, N.J. (PRWEB) April 16, 2009
Silver Moon Trading Company recently launched many new handcrafted & beaded jewelry pieces.
"It's been a lot of fun creating unique new designs, in time for Mother's Day and a special fundraiser for breast cancer research" says Owner & Designer, Anahita Guarino. Through the end of May, Silver Moon Trading Company will donate 10% of all sales to the Cancer Institute of New Jersey (CINJ) in memory of Ms. Guarino's mother, who lost her 10-year battle to cancer in September 2008. Guarino says, "This will obviously be a difficult Mother's Day and I wanted to do something positive. Last October, for Breast Cancer Awareness Month, I held a special two day jewelry show which raised over $400 and I would like to continue using my business to raise funds for this very worthy cause. Mother's Day feels like an appropriate time to honor my mother and have a fundraiser to support CINJ, where she received excellent care for over 10 years."
"The inspiration for my handcrafted jewelry comes from many sources, and I love incorporating vintage jewelry into my designs to create truly distinctive styles," says Guarino. Her beaded jewelry combines gemstones with Swarovski crystals, pearls & Czech glass beads for elegant, and sophisticated styles with eye catching color combinations. In addition to beaded jewelry, she also designs handmade jewelry with chains and handcrafted links or dangles created with crystals, pearls & gemstones for chic and graceful styles.
Ms. Guarino designs jewelry in a wide range of styles and two of the necklaces were recently featured on Springfield, IL, 98.7 WNNS's Friday Fashion Forecast. On February 20, 2009 Ms. Guarino was interviewed by host Amy Nelson to speak about the jewelry she creates, especially the chunky jewelry which has quickly become a hot fashion trend as women try to emulate First Lady, Michelle Obama's style. One lucky listener was the winner of a beautiful chunky Sodalite & Freshwater Pearl necklace. Guarino said, "This was a very exciting opportunity to speak about the jewelry I design & an audio of the interview is available on the website."
The bridal jewelry collection is expected to turn heads with stunning designs, which can also be customized. Guarino says, "Once the gown has been selected, the jewelry can be designed to express the bride's personal sense of style. Selecting the right accessories to compliment the gown is critical for adding the perfect finishing touch." Swarovski crystals & pearls offer a wide range of color options for the bridesmaids, and each bridesmaid can select her favorite design, and have an attractive piece of handmade jewelry she will cherish wearing for years to come. Silver Moon Trading Company is looking forward to designing breathtaking jewelry to accessorize the bride & bridal party on this very special day.
Since personal preference in jewelry can vary dramatically from one woman to the next, Silver Moon Trading Company was created with a vision to offer one of the most diverse selections of jewelry available online. In addition to handmade jewelry, the website also offers trendy sterling silver jewelry & one-of-kind vintage jewelry which Ms. Guarino personally selects.
"Whether you're looking for a special gift or something unique for yourself, you'll find lots to choose from, & I always welcome custom orders to create jewelry in your favorite gemstone or color. Custom jewelry is a win-win as clients get exactly what they want and I get to do something that I love," says Guarino. From now until the end of May, you can buy beautiful unique jewelry and benefit Breast Cancer Research at the same time. Ms. Guarino hopes to raise several hundred dollars to benefit the Cancer Institute of New Jersey.
Visit http://www.SilverMoonTradingCompany.com today and pick up a one of a kind unique piece of handmade jewelry or something in today's hottest trends.
###