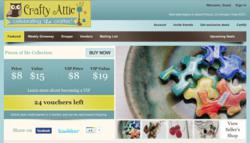 "Our team really believes in this cause and encourages others to get involved to help find a cure for breast cancer. We thought this would be a way we could do our part to help while getting our Crafty Attic family involved."
Asheville, NC (PRWEB) September 29, 2011
October is Breast Cancer Awareness Month and CraftyAttic.com is working hard to help raise money and awareness for the cause. During October 2011, Crafty Attic will have three ways for their customers to assist them in helping the cause. For each new member (no purchase necessary) that registers and requests their daily newsletter, Crafty Attic will make a contribution to the National Breast Cancer Foundation. For each sale, Crafty Attic will contribute 25% of the profits and for each new VIP customer they will contribute 50% of the $4.99 monthly fee in October.
Crafty Attic team member Kerry Ganiel says, "Our team really believes in this cause and encourages others to get involved to help find a cure for breast cancer. We thought this would be a way we could do our part to help while getting our Crafty Attic family involved."
Crafty Attic offers daily deals on craft supplies, handmade goods and vintage findings brought to you by artists, crafters, and independent suppliers from sites such as Etsy and Artfire. Their goal is to connect their featured sellers to new customers who will help their businesses thrive.
So how does it work? Crafty Attic offers customers two ways to get a great deal. Customers can purchase a voucher from a featured shop, entitling them to discounted online store credit. Customers can also visit Crafty Attic's online shop that's stocked with quality products from their network of artisans. Best of all, if a customer signs up for a VIP membership, they can receive even bigger savings on voucher and shop purchases. In an economy where everyone is looking for a bargain, Crafty Attic delivers.
Many other daily deal sites only offer one or two items per day, but at Crafty Attic there is a consistent variety of new products available daily for customers to enjoy, giving them the opportunity to grab a deal on the products they are really looking for.
Crafty Attic launched in September 2011 and provides its members with new daily deals beginning at 10 am EST. As a grand opening special, all new customers through December 2011 can lock in their VIP monthly fee at $4.99 a month, 35% off the regular rate.
For more information about CraftyAttic.com's daily deals or its selection of other products, visit http://www.CraftyAttic.com.
###