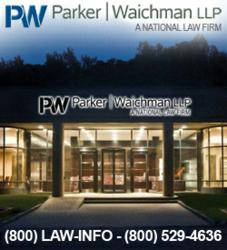 When you are in a wheelchair wondering if you are permanently disabled, you won't think about whether the cell phone... was hand-held or hands-free.
(PRWEB) June 14, 2013
Parker Waichman LLP, a national law firm dedicated to protecting the legal rights of car accident victims, wants to sound the alarm regarding the findings of a new study, released on June 12, 2013, by the AAA Foundation for Traffic Safety, which reveals that hands-free texting or talking while driving may seem safer than hand-held, but that is not the case at all. In fact, wireless technologies such as Bluetooth and Siri (a voice-activated system for communicating with the iPhone) may make hands-free texting and talking even more dangerous than hand-held devices when used on the road, the study says.
The study measured drivers' brainwaves while they were multitasking and found they had to cope with a heavier "mental workload" and additional distractions when using voice-to-text email features as opposed to talking on a cellphone, whether hand-held or hands-free, according to the study.
Voice-activated features also increased "distraction levels" and heightened risk, said Peter Kissinger of the AAA Foundation for Traffic Safety, in a June 12 report on NPR's website. Test drivers experienced "tunnel vision or inattention blindness where motorists don't see potential hazards right in front of them," he said.
Laws have made cell phone usage while driving illegal in some states. In others, however, while hand-held cell phones are banned, hands-free ones are not. CBS/AP, for example, noted in a June 5 report that the New York state legislature passed a new law "cracking down on young drivers who are caught texting and driving." However, the focus of the new legislation, as the article related, is handheld cell phones, not hands-free.
Under the new legislation, drivers with permits and probationary/junior licenses will face a 60-day suspension for a first offense when caught texting or talking on a handheld cell phone while driving, CBS/AP noted.
"Therein lies a problem," said Gary Falkowitz, Managing Attorney at Parker Waichman LLP. "How states write laws governing cell phone usage while driving – banning hand-held usage but not hands-free, for example – is serving to further the impression that hands-free texting or talking is safer than using a hand-held device. This may well strengthen an already existing false sense of security, especially among younger, less-experienced drivers."
He noted that the firm has nurse consultants on staff who talk to a variety of people who have been hurt in car accidents caused by various distractions – including hand-held and hands-free cellphones. "When you are belted into a wheelchair and wondering if you are permanently disabled, one thing you won't think about is whether the cell phone you or the other driver was using right before impact was hand-held or hands-free."
Citing data from the National Highway Traffic Safety Administration, AAA said in its study that 3,331 people were killed and 387,000 were injured in crashes involving a distracted or inattentive driver in 2011.
This study arrives on the heels of one released about a month ago. On May 6, 2013, Science World Report reviewed findings from a study showing that at least 43 percent of high school students of driving age text at least once while driving.
The study used information from the 2011 Youth Risk Behavior Survey to collect data on 7,833 high school students who were eligible for a driver's license. Researchers found that males were more likely to text while driving, and that those who texted while driving were more likely to engage in other risky behaviors, such as drinking and driving, having unprotected sex and using tanning beds. Additionally, the researchers found that texting increased with the age of the participants; 46 percent were older than 17 and 52 percent were over 18.
Parker Waichman offers free legal evaluations to the victims of car accidents in Long Island, New York, New Jersey, Florida and nationwide. If someone you love was injured in a motor vehicle crash, please visit our car accident lawsuit page at yourlawyer.com. Free lawsuit evaluations are also available by call 1-800-LAW-INFO (1-800-529-4636).
Contact:
Parker Waichman LLP
Gary Falkowitz, Managing Attorney
(800) LAW-INFO
(800) 529-4636
http://www.yourlawyer.com