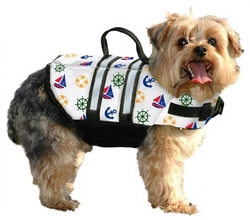 "We've added dozens of new vendors and countless new product lines" said HandsNPaws and Pawstogo Principle, Heather Morris.
Scottsdale, AZ (PRWEB) July 22, 2010 –
HandsNPaws and Pawstogo, two online pet boutiques, have received a fresh image this summer with many exciting newly released products. With these changes Heather and Alex Morris of Morris Investments, LLC have reinforced the company as the lifestyle destination for people and pets by offering unique, hand-made products and friendlier service.
The focus of the company over the past two years has been to enhance product offerings, elevate the level of customer service and increase overall efficiency of the business. The online stores now offer over 4,500 products for pets, including a hot summer line of dog tanks with attitude, stylish dog dresses, pocket fold-up raincoats, nautical designer life jackets, wheel around pet carriers and fashionable airline approved aviator and damask print pet carriers for that family vacation.
"We have taken great steps to update our sites with the latest in dog fashion and pet supplies" says HandsNPaws and Pawstogo Principle, Heather Morris. "We've added dozens of new vendors and countless new product lines. With the addition of these new, innovative products and a slogan of 'Lifestyle Destination for People and their Pets,' we feel the changes we have made are consistent with our company goals."
HandsNPaws and Pawstogo supplies to a diverse customer base with a wide range of needs and carries items customers cannot find anywhere else. "There's something for everyone on the sites" said Ms. Morris. The online company also services international orders, with 5% of its' business coming from abroad.
"We look forward to providing the finest in quality and selection for people's best friends. Whether it's dog booties or warm clothing in the winter or dog harnesses and raincoats in the spring, pet carriers for summer travel or pet costumes for Halloween, HandsNPaws and Pawstogo have it all" commented Heather Morris, Principle of the two online boutiques.
HandsNPaws has also launched a comprehensive social media platform including a HandsNPawsblog, a Youtube channel (Handsnpaws1), a Facebook and MySpace page, and a Twitter account, @handsnpaws. Also, Pawstogo enjoys it's own Facebook page. "Our goal is to keep our customers updated on the latest in pet fashion and newly released products" reflected Jennifer Radonovich, General Manager who manages the campaigns.
For more information on HandsNPaws or Pawstogo contact Heather Morris at
602-369-4568 or email heathermorris(at)handsnpaws(dot)com.
###