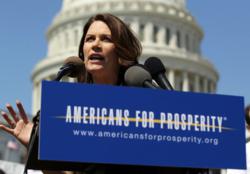 Thousands will rally for health care freedom on March 27th
WASHINGTON, DC (PRWEB) March 02, 2012
Today Americans for Prosperity, the nation's largest advocate for economic freedom, is releasing more details on speakers and coalition partners for the massive Hands Off My Health Care Rally scheduled for March 27th on Capitol Hill.
The rally will bring thousands of activists to Capitol Hill to rally for health care freedom as the Supreme Court hears oral arguments on the constitutionality of President Obama's health care plan.
The purpose of the Hands Off My Health Care rally is to send a message that the American people are against federal government intrusion on their private health care decisions, and the Individual Mandate is contrary to the United States Constitution.
Rally Details:
Hands Off My Health Care Rally
Upper Senate Park, Washington, D.C.
March 27th at 1:00PM
Speakers include:
Rep. Michele Bachmann
Tim Phillips, Americans for Prosperity
Jim Martin, 60 Plus
Penny Nance, Concerned Women for America
Amy Kremer, Tea Party Express
Tracy Walsh, Breast Cancer Survivor
Coalition sponsors include:
60 Plus Association
Americans for Tax Reform
Concerned Women for America
Doctor Patient Medical Association
Eagle Forum
Family Research Council
Hagerstown Tea Party
Heartland Institute
Institute for Liberty
Let Freedom Ring
The Richmond Patriots
Tea Party Express
Tea Party WDC
TeaParty.Net
For more information, please contact Lindsay Matlock, LMatlock(at)afphq(dot)org or 703-224-3200.
###