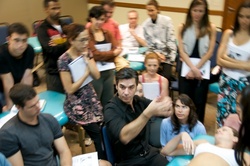 Manual Physical Therapy can truly change the lives of patients
Astoria, NY (PRWEB) December 27, 2009
Hands-On Seminars' board of directors released today a massive continuing education program in order to expand its manual therapy teachings around the world with emphasis South America. The South America program will take place with the collaboration of its Brazilian platinum partner Physion. Dr. Joel Eurazio, President of Physion Intitute in Brazil stated: "Our collaboration with Hands-On Seminars will help us reach thousands of therapists in South America and deliver the best post-graduate education possible. We are starting with a country-wide tour in Brazil that will take place in 2010 and our goal is to reach many other countries in our region"
Dr. Dimitrios Kostopoulos, co-founder of Hands-On Seminars with headquarters in Astoria, NY, stated that Manual Physical Therapy techniques have gained significant ground during the past 10 years in the US. He added that a large number of evidence based research studies offer validation and support the value of manual therapy for the treatment of the most common musculoskeletal problems. "If it's not hands on, it's not PT", Kostopoulos proclaimed.
In a recent statement to the media, Konstantine Rizopoulos, also co-founder of Hands-On Seminars emphatically stated: "...Manual Physical Therapy can truly change the lives of patients who suffer from musculoskeletal pain. This is why it is the mission of Hands-On Seminars to disseminate and reach with this information as many therapists as possible".
In a recent youtube video the Board of Directors of Hands-On Seminars released various discount programs that make feasible for therapists to complete all Manual Therapy courses and obtain their MCMT (Mastery Certification in Manual Therapy) certification within 6 months to a year. The Hands-On Seminars website released a special accelerated program for international students.
Hands-On Seminars has been in business since the mid 1990s and offers Manual Therapy courses around the world.
###