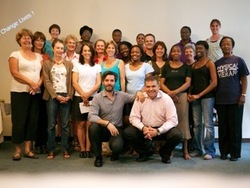 One of our organizational goals is to help shape the position and future of physical therapy, especially in countries where there is a need
Astoria, NY (PRWEB) March 28, 2011
With an invitation by the Zimbabwe Physiotherapy Association, Hands-On Seminars recently completed a seminar training in Manual Physical Therapy, aimed to promote manual physical therapy care in this African country.
Zimbabwe with a population of 13 million people is severely underserved in terms of physical therapy care. Less than one hundred physiotherapists serve the entire population of the country with limited resources especially in the area of education.
Hands-On Seminars, a leading international continuing education organization, teaches exclusively manual physical therapy techniques around the world.
"When we received the call from the education committee of the Physiotherapy Association of Zimbabwe to help them educate further their members, we gladly accepted the invitation to spread the word about manual physical therapy in that part of the world" says Hands-On Seminars co-founder Dr. Dimitrios Kostopoulos.
In a 2009 investigative report the BBC reported a "health crisis" in Zimbabwe and suggested that "...the health crisis in Zimbabwe should be the subject of an investigation by the International Criminal Court", referring to intensified criticism over the dire economic and humanitarian situation in Zimbabwe under the Mugabe government.
"One of our organizational goals is to help shape the position and future of physical therapy, especially in countries where there is a need" adds Konstantine Rizopoulos, PT, MCMT who is also co-founder of the organization.
Hands-On Seminars has a long record or humanitarian efforts around the globe and they recently launched a $100,000 scholarship program to help educate therapists around the world about the value of manual physical therapy.
# # #