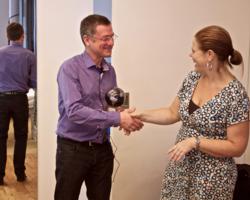 Clinical Neurodynamics can make a huge difference in patients' lives
New York City, NY (PRWEB) September 16, 2012
Hands-On Seminars, a New York based continuing education organization offering manual therapy courses for physical therapists, occupational therapists and other health care providers, awarded Michael Shacklock with the Clinical Excellence award for his contribution to the physical therapy profession.
Dr. Dimitrios Kostopoulos, co-founder of Hands-On Seminars, told a group of physical therapists that: "Michael Shacklock proposed the concept of neurodynamics in physiotherapy in 1995 with the aim of stimulating clinical integration of mechanics and physiology of the nervous system but since then, the approach has developed into a much more comprehensive system of musculoskeletal treatment".
Hands-On Seminars had invited award recipient Michael Shacklock , who lives in Australia, to teach the neurodynamics concept to a group of physiotherapists in New York City. Shacklock obviously moved by the award told the crowd that "...the use of neurodynamics can drastically improve the outcomes that therapists currently have and this can make a huge difference in patients' lives'.
Dr. Konstantine Rizopoulos, also co-founder of Hands-On Seminars, mentioned that "Hands-On Seminars will bring Michael Shacklock back to the US in 2013 to teach a series of courses throughout major metropolitan areas around the country".