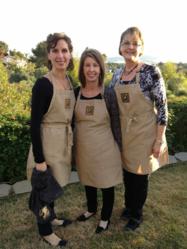 "I am excited to go home and try some of your amazing recipes!" Paula O'Neal
San Diego, CA (PRWEB) January 25, 2012
Lajollacooks4u, a San Diego, CA cooking and dining experience, ranked #1 by Trip Advisor, was the setting for good friends from Amarillo, Texas who recently spent the late afternoon and early evening in the kitchen and dining room of Lajollacooks4u.
The Texas Panhandle may be a long way from the shores of Southern California, but the familiarity of an inviting kitchen, good food and hospitality made these ladies from Amarillo right at home.
Jodi Abel, Founder and Chef of Lajollacooks4u, said she enjoyed the four hour cooking class as much as the women. "This is what makes Lajollacooks4u so popular," Abel said. "Where else can fellow foodies enjoy a relaxed, intimate setting, sipping wine while creating delicious food together?" Abel added that all her guests leave with special memories of wonderful time together.
The Amarillo ladies travel two-to-three times a year together and like to participate in cooking classes when they travel. "Lajollacooks4u was one of the most unique classes we've taken because it was all hands-on," said Paula O'Neal, one of the Amarillo women. Tina Sauer and Pam Welch , who made up the rest of the Amarillo trio, echoed O'Neal's comment. They said the experience was memorable and significantly exceeded their expectations.
Lajollacoks4u, founded in 2008, provides an ideal activity for couples,corporate team building and any foodie looking for a cooking and culinary experience in an ideal setting overlooking the Pacific Ocean. Based in La Jolla, a suburb of San Diego, CA, Lajollacooks4u has enjoyed record growth since its inception and has been ranked the number one attraction in La Jolla on the world's largest travel review site, Trip Advisor. For more information, contact Jodi Abel at jodi(at)lajollacooks4u(dot)com or phone 1-858-752-4980
# # #