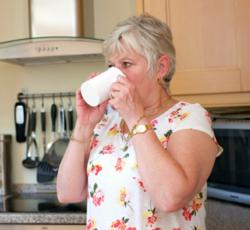 I can now drink a full cup of tea for the first time in my life
London, UK (PRWEB UK) 2 November 2012
Chris Peacock designed handSteady because a close family member was diagnosed with Parkinson's Disease. He could see him struggle to hold a cup steady and how finding standard cups difficult to use was making drinking unsafe and could one day really affect his social life. As a designer he knew he had to come up with an answer.
So Chris developed handSteady with 35 health professionals and 72 people with various health conditions. Diane Patent from Stevenage said, "I have weakness down my left hand side & my hands can be shaky. handSteady is extremely light, easy to use & comfortable. I love it & use it all the time."
It was at IBM where Chris was first taken seriously as an inventor. He then went to the Royal College of Art to do a 2 years Masters in Industrial Design Engineering to develop my skills as a designer. Guys and St Thomas' Charity have invested £50K in the project and it's made in Britain, by a precision manufacturing company that ensure the product meets ISO9001 standards.
handSteady has won awards from Lord Snowdon and Help the Aged. BBC News, CNET Asia and Gizmodo amongst others featured the original article. This has a huge response and inspired Chris to take the project forward, refine the design and manufacture it. Chris has just exhibited the product at the Naidex South exhibition in the Excel Centre.
Dr Michael Wright from Guys and St Thomas' Charity said: "We are delighted to have supported the development of handSteady, which is such a simple idea that promises to radically improve the quality of life of people living with health conditions."
handSteady has just launched, comes with a lid and a hidden base accessory and is available for free worldwide shipping from http://www.handsteady.com.