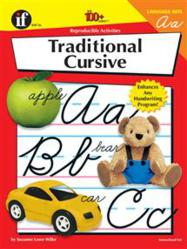 "Recent studies have shown that high school students who wrote the essay portion of the SAT in cursive, as opposed to printing, scored higher on that test." –Elizabeth Bunn, Calligraphy Professional
Washington, D.C. (PRWEB) June 21, 2013
Every parent can tell others firsthand how important it is to keep their children practicing their penmanship, even during the summer months. Kids have no doubt earned a break from nightly homework, spelling tests, writing assignments and early morning wakeup calls, but they should continue practicing the beautiful cursive handwriting they've worked so hard to master. This will keep their fine motor skills polished and prepared for the upcoming school year. In fact, studies show that writing helps children's brain synapses to develop because it requires fluid movement, hand-eye coordination and fine motor skill development. Fahrney's cursive handwriting for kids workbooks are a great resource for children just learning or simply practicing the art form.
One way to encourage children to write is to have them keep a journal of their summer activities, adventures and discoveries –kids journals are a fantastic way to keep them motivated and have a record of their summer memories! A box of colorful stationery may also be just the "write" way to inspire them to compose a letter to Grandma or Aunt June telling about their vacation or trip to the water park - the recipient is sure to enjoy it and they just may receive a letter in return!
Helping build a child's passion for writing outside the classroom may pay dividends when it comes to their long term educational success. Fahrney's offers parents an alternative means for their children to practice and learn the art of cursive writing through a two-hour workshop entitled "Cursive for Kids", which takes place Saturday, August 3rd from 1:00 pm - 3:00 pm. The cost for the class is $60, which includes a workbook and fountain pen that may be taken home to practice with. This class is taught by Elizabeth Bunn, Fahrney's very own calligrapher and class instructor. She brings over 20 years of experience in the field of beautiful writing. For additional details on the cursive handwriting for kids class visit the "Cursive for Kids" event page, and for more information on making improving children's handwriting enjoyable, or to find out more about kids' workbooks and journals, please visit Fahrney's Pens online or in their retail store.
Store Address: 1317 F Street, NW | Washington, DC | 202-628-9525
###
Known as the "Write Place", Fahrney's Pens is the Nation's premier source for fine writing instruments and accessories including pens, pencils, refills, stationery, watches, leather gifts and more. Offering pen expertise since 1929, including custom engraving and pen repairs from the "Pen Doctor", Fahrney's is a family-owned business with a commitment to its customers—one that has been rewarded with unparalleled loyalty. Visit us at FahrneysPens.com.