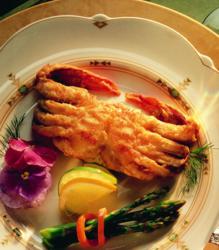 Once you try a tasty soft crab, you'll be a calendar-watcher for life!
Crisfield, MD (PRWEB) April 11, 2012
Handy International announces fresh soft crabs, a seafood delicacy, will soon be at a favorite restaurant or market. Soft crab season typically arrives in mid-May and continues until late September; perfect for a Mother's Day recipe or summertime grilling. Taste a soft crab and become a calendar-watcher for life.
Soft crabs are blue crabs that have just molted or backed out of their hard shells. The scientific name for blue crabs is Callinectes sapidus; Callinectes is Greek for "beautiful swimmer" and sapidus is Latin for "tasty" or "savory." Blue crabs are found on both the East Coast and the Gulf Coast. The most heavenly crabs come from the Chesapeake Bay.
Those unfamiliar with soft crabs are in for a special treat! Soft crabs are so simple and quick to prepare. Less is more when it comes to ingredients. The sweet delicate taste of the soft crab should be the star of a easy crab recipe.
Be sure to try fresh soft crabs at a favorite seafood restaurant or look for them at a local grocery store or seafood market and get out a frying pan or outdoor grill and enjoy!
Handy International is a family-owned company with over 100 years of quality seafood processing. Products include soft crabs, crab meat, crab cakes, crab specialty items, oysters and artisanal fish. Visit Handy International's website for more information and recipes created by Executive Chef Rosario Del Nero.
###