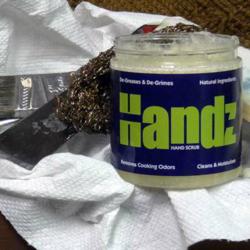 It's a little known fact that oil cleans oil.
Bethpage, NY (PRWEB) June 15, 2013
Every season has its dirty, smelly jobs, but summertime seems to be the dirtiest. Whether catching fish, cleaning the BBQ or fixing the car, working in the garden or sweating through outdoor sports. Grime, grease and dirt seem to build up more in the warmer weather. Regular cleansers just don't completely get rid of the greasy dirt and smell. The reason is that most of those odors and grime are oil based and the cleansers are water based.
It's a little known fact that oil cleans oil. That is the reason that the product works like it does. Handz Hand Scrub uses sugar, as the safe and natural scrubbing element, which is then combined with eight botanical oils, pure refined Shea butter and five different citrus oils, to create this great scented, hard working, naturally moisturizing hand scrub. It even removes that stubborn chlorine feel and smell.
So don't worry about getting down and dirty this summer. Handz will make sure clean up is easy, effective and natural!
Scrubz Body Scrub, Inc. manufactures and distributes natural skin care products. They are hand-made in small batches and are created for all skin types, including sensitive skin. For further information, please call 516 827-0800 or visit us online at http://www.scrubzbodyscrub.com.