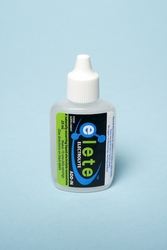 (PRWeb UK) December 17, 2009
During the festive season help is at hand for hangover relief with elete, the electrolyte and trace mineral hydration drink, originally specially created as a sports drink concentrate to deliver optimum hydration.
Even those who don't normally over-indulge in the festive spirit can slip up and face the next day regretting the night before with headaches, sickness and the many other unpleasant manifestations of the dreaded hangover.
elete, which was developed as a sports drink concentrate, has already met with much acclaim from serious athletes and sports people who use it to maintain hydration, prevent muscle cramps, sustain endurance and enhance mental focus. It was recognised that these hydration qualities could also be applied to other conditions where dehydration is a major influence, i.e. hangovers.
Every year the usual round of miracle hangover cures hit the headlines, only to be met with disappointment as they fail to live up to their promises! However, elete is different – it works by efficiently hydrating the body and is based on some strong science (see editor's note for the science bit). Furthermore, in a peer reviewed independent research trial, participants who drank water with elete added needed to drink 42.7% less water to hydrate properly compared with those who drank only pure water.
elete is a 100% natural ionically charged electrolyte drink concentrate that originates from the mineral-rich water of the Great Salt Lake in Utah. It contains four key electrolytes (magnesium, potassium, chloride and sodium), combined with 70 other trace and ultra-trace minerals, necessary for optimal hydration and which also help bring the body back into balance.
In order to work most effectively a shot of elete (40 drops – 2.5ml) in a large glass of water is a good start, but you can't OD on this electrolyte so judge your own dose depending on the level of your indulgence! For those who do not like the slightly salty taste, elete can be added to juice, cordial, soda or coffee (in fact any soft drink as long as it is comprised largely of water – hot or cold).
elete can be purchased on-line at http://www.hangoverrelief.co.uk (and also from independent running, cycling and sports shops in the UK and the USA). It costs from £6.49 for a 25ml bottle which makes up 10 litres of the electrolyte drink, enough to sooth the effects of at least 10 big nights out and helping keep you feeling more bright and alert over the festive period!
This highly effective hydration drink should be taken before you go to bed in order to deliver you fresh and lively in the morning. However, a morning after dose will also bring welcome hangover relief, often within 30 minutes.
###