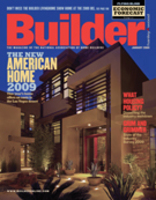 Both the BUILDER LivingHome and the New American Home prove that green building does not limit the housing industry in style or relevance
Washington, D.C. (PRWEB) February 3, 2009
January's BUILDER magazine features The New American Home and other green building examples that captured housing industry interest during the recent International Builders' Show.
This month's cover story, "The New American Home 2009," offers the details on the 26th annual show home in Las Vegas, NV. Despite its 9,000-square-foot floor plan and multimillion-dollar price, the New American Home is an archetype of sustainability within the housing industry. Its eco-friendly design earned the house a Gold rating against NAHB Green Building Program standards.
January's issue also features the BUILDER LivingHome, a two-story modular home built on the International Builders' Show floor. Eleventh in a series of idea homes, this year's BUILDER LivingHome demonstrates how factory-built housing promotes sustainability and reduces labor costs, making it an ideal choice for a housing industry hurt by the economy.
"Both the BUILDER LivingHome and the New American Home prove that green building does not limit the housing industry in style or relevance," says BUILDER editorial director Boyce Thompson. "In fact, the International Builders' Show demonstrates that sustainability provides more options than ever."
The economy was another hot topic at this year's International Builders' Show. In the special report "Starting Over," BUILDER examines the cause, effect, response and future of key factors in the housing industry crash. In "Battening Down the Hatches," the magazine reports the results of BUILDER's 2009 "State of the Industry" survey.
Online, BUILDER offers a virtual ticket to anyone who missed--or wants to relive--the International Builders' Show. The site (BuilderOnline.com) has slide shows, links, floor plans and video reports from the International Builders' Show floor. For breaking news, past issues of BUILDER Magazine and other features, visit BuilderOnline.com.
About Hanley Wood
Hanley Wood, LLC, is the premier media and information company serving housing and construction. Through four operating divisions, the company produces award-winning magazines and Web sites, marquee trade shows and events, rich data and custom marketing solutions. The company also is North America's leading publisher of home plans. Hanley Wood Business Media (Washington, D.C.), publishes 30 award-winning residential and commercial construction titles, including BUILDER, REMODELING, CUSTOM HOME, CONCRETE CONSTRUCTION and residential architect. Hanley Wood Business Media also offers the construction industry's foremost collection of Web sites, including BUILDER ONLINE, REMODELING ONLINE, and ebuild, the comprehensive online guide to building products, as well as the largest collection of house plans online through eplans.com and Dream Home Source.
Founded in 1976, Hanley Wood is one of the ten largest B-to-B media companies in the United States. Hanley Wood is owned by affiliates of JPMorgan Partners, which uses CCMP Capital Advisors to manage this investment.
###