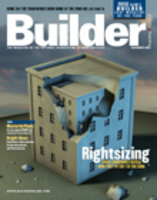 Many home builders describe themselves as 'innovative,'
Washington, D.C. (PRWEB) January 3, 2008
Home builders are combating market decline with building innovation and company reorganization, reveals BUILDER Magazine's December issue. Its cover story, "Rightsizing Your Business," examines changes made by three home builders.
While no blanket solution exists for the downturn, these home builders have experimented with product overhauls, budget cuts and personnel shifts. Stanley Martin Communities, a Reston, Va.--based building company, broadened its customer base by adding smaller homes to its product line. Home builder Taylor Morley of Chesterfield, Mo. battled cash flow issues by reducing its workforce.
Experts weigh the results, and what they could mean for other building companies. "These home builders have proven that many options exist for reorganization," said Editor in Chief, Denise Dersin. "Other building companies can look at their efforts to learn what works, what doesn't and what course of action could best benefit them."
Another December feature, "Bright Ideas," highlights the innovative practices of four home builders. These building companies have boosted their bottom line with bold new efforts in areas such as energy efficiency and community development. Innovation gives home builders a valuable edge - especially when building companies are facing a market crunch. All innovations, however, carry inherent risks.
"Many home builders describe themselves as 'innovative,'" said Senior Editor John Caulfield. "But true innovation takes an incredible amount of courage and planning. Only a few building companies can claim that distinction. This article looks at four such builders, and how their innovations have affected their companies."
In keeping with the innovations theme, BUILDER's December Products Department highlights new sustainable countertop materials and the latest glazing options for window glass. Builder Online supplements December's content with a look at how Kimball Hill Homes uses technology to improve communication and decrease costs.
Other featured articles from BUILDER Magazine's December Issue:

Find stories on combating the market decline, innovative building, design ides and success stories on BUILDER Online. For more BUILDER features, past BUILDER issues and other information, visit http://www.BuilderOnline.com.
About Hanley Wood
Hanley Wood, LLC, is the premier media and information company serving housing and construction. Through four operating divisions, the company produces award-winning magazines and Web sites, marquee trade shows and events, rich data and custom marketing solutions. The company also is North America's leading publisher of home plans. Hanley Wood Business Media (Washington, D.C.), publishes 36 award-winning residential and commercial construction titles, including BUILDER, REMODELING, CUSTOM HOME, CONCRETE CONSTRUCTION and residential architect. Hanley Wood Business Media also offers the construction industry's foremost collection of Web sites, including BUILDER ONLINE, REMODELING ONLINE, and ebuild, the comprehensive online guide to building products, as well as the largest collection of house plans online through eplans.com and Dream Home Source.
Founded in 1976, Hanley Wood is a $250 million company owned by affiliates of JPMorgan Partners, LLC. CCMP Capital Advisors manages the Hanley Wood investment for JPMorgan Partners.
###