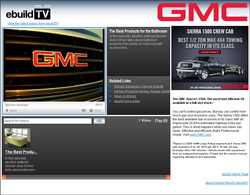 Washington DC (PRWEB) August 9, 2008
Hanley Wood, LLC, the leading media and information company serving the residential and commercial construction industries, announces the launch of ebuildTV and CONCRETE CONSTRUCTIONTV.
Hanley Wood's BuildTV launches its newest channel, ebuildTV, with an exclusive episode from the ebuild/BUILDING PRODUCTS Editorial Director, Jean Dimeo. In ebuildTV's premier episode, Dimeo debuts the latest bathroom product trends, including water-conserving toilets and the increasing demand for matching bathroom accessories.
ebuildTV is the latest feature on ebuild.com, the online destination for residential construction pros searching for product information, sourcing new products and trends, learning to do their jobs faster and safer, and connecting professionals with product manufacturers, experts and peers. A dedicated e-mail to more than 100,000 opt-in subscribers will announce ebuildTV's launch and the future release of all new episodes. As the online extension of BUILDING PRODUCTS magazine, ebuild generates more then 170,000 unique visitors each month. Together, BUILDING PRODUCTS and ebuild are the comprehensive source of information on the latest products and trends for builders and remodelers.
Hanley Wood's BuildTV also debuts CONCRETE CONSTRUCTIONTV to deliver products, trends and best practice coverage to the growing concrete construction market. With licensed video content, CONCRETE CONSTRUCTIONTV launches with a detailed presentation on how fly ash can reduce CO2 emissions and how it works with cement.
CONCRETE CONSTRUCTIONTV is a groundbreaking addition to the CONCRETE CONSTRUCTION Web site, the industry's most comprehensive and authoritative source of technical and how-to information for concrete construction and repair. A dedicated e-mail to more than 40,000 opt-in subscribers will announce the launch of CONCRETE CONSTRUCTIONTV and the release of all future episodes. As the Web component of CONCRETE CONSTRUCTION magazine, the site generates more than 30,000 unique visitors each month.
Hanley Wood's BuildTV is an online video platform that provides industry professionals with up-to-date, on-demand information. Each episode features successful business tips, solutions to common industry problems and the latest product information. Hanley Wood's BuildTV was recently announced a winner in min's 2008 Best of the Web Awards for best overall use of video on a site.
To learn more about Hanley Wood's BuildTV visit buildtv.com.
About Hanley Wood
Hanley Wood, LLC, is the premier media and information company serving housing and construction. Through four operating divisions, the company produces award-winning magazines and Web sites, marquee trade shows and events, rich data and custom marketing solutions. The company also is North America's leading publisher of home plans. Hanley Wood Business Media (Washington, D.C.), publishes 36 award-winning residential and commercial construction titles, including Builder, Remodeling, Custom Home, Concrete Construction and residential architect. Hanley Wood Business Media also offers the construction industry's foremost collection of Web sites, including Builder Online, Remodeling Online, and ebuild, the comprehensive online guide to building products, as well as the largest collection of house plans online through ePlans.com and Dream Home Source.
###