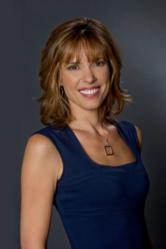 I'm so honored to receive recognition from such a wonderful organization for what I consider the most important role in my life, being a mother
Greenwich, CT (Vocus/PRWEB) April 15, 2011
Hannah Storm, ESPN anchor, advocate, author and producer will receive the 2011 "Celebrated Mom" award from Lifeworx, the premier child care and elder care service provider in Westchester and Fairfield Counties, and New York City. Each year this award recognizes a special woman who has led the way in her profession and community while being an outstanding mom.
"I'm so honored to receive recognition from such a wonderful organization for what I consider the most important role in my life, being a mother," said Hannah Storm. "Motherhood is about making choices and finding the right balance to make everything work. Throughout my career I've been very fortunate to be able to put my family first and still fulfill my passions, something I hope I can pass on to my daughters."
LifeWorx recognizes that moms do amazing things for family, community and society. "Hannah is truly inspirational, while being a down-to-earth person. She values the home runs as well as the 'little things' in life," said Bal Agrawal, CEO, LifeWorx.
This award is presented every year, just before Mother's Day, to recognize the increasing leadership women have taken in business, government and community. Last year's recipient was Carol Evans, CEO of Working Mother Media.
The award presentation will take place at Richards in Greenwich, Connecticut on April 20, 2011 at 6:00 p.m. The event will help raise funds through voluntary contributions to Go Red for Women, a subchapter of the American Heart Association, focused on women's heart health. Sponsors of the event include: Greenwich Magazine, Richards and SpaFinder.
For more information on Hannah Storm and her current projects please visit http://www.hannahstorm.com.
About LifeWorx
LifeWorx is the premier childcare, elder care, housekeeping, nanny and chef service provider in Westchester, Fairfield and Manhattan. Its mission is to enhance the overall quality of your life by creating a less stressful home environment and taking care of day-to-day tasks for clients, so that they have more time to spend with the ones you love. http://www.LifeWorx.com.
###