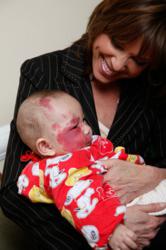 It is so important for these children, and others, to get the help they need, and as soon as possible, so their conditions do not worsen over time and become more serious or even life-threatening
New York, NY (Vocus/PRWEB) April 05, 2011
Beginning this month, the Hannah Storm Foundation (HSF) will provide funding for surgeries on three children from around the world who are in need of treatment for vascular anomalies. While each child's situation is different, they will all benefit from the generous funds provided by HSF as well as the services of Dr. Milton Waner, a world-renown surgeon specializing in vascular anomalies.
"I'm so pleased that we are able to provide the resources that will help these beautiful children, and to once again be working with Dr. Waner," said Hannah Storm, President of HSF. "It is so important for these children, and others, to get the help they need, and as soon as possible, so their conditions do not worsen over time and become more serious or even life-threatening."
In 2010, HSF provided funding for the first of several surgeries on Tingyi, a child from China. Now 17 months old, he will return to the United States later this year for his remaining surgeries to reduce the redness caused by a Port Wine Stain covering the left side of his face. Dr. Waner will perform the surgeries at the Vascular Birthmark Institute at St. Luke's Roosevelt Hospital in New York.
New children receiving surgery funding this year include:

Allison, 7, Wareham, MA. HSF will provide the funding for her last surgery to remove a partially involuted hemangioma on her lower lip. The surgery will be performed at the Vascular Birthmark Institute at St. Luke's Roosevelt Hospital in New York.
Tobija, 9 months, Kranj, Slovenia. Through an affiliation with the Center for Vascular Malformation in Children (ZVM) in Berlin, Germany, Tobija will undergo surgery for a Port Wine Stain on the left side of his face. He will need five to six treatments throughout the next year.
A vascular anomaly is a tumor made up of blood vessels and can be extremely serious, even life threatening. Vascular anomalies can affect all children despite race or gender and are present at or soon after birth. Approximately ten percent of children born in the U.S. with a vascular anomaly will have to see a specialist.
The most common anomaly is a hemangioma affecting about 1 in 10 children. Port Wine Stains affect about 1 in 1,000 children, 9 out of 10 of which are girls. Today, many insurance companies still designate the treatment of vascular anomalies as cosmetic surgery; of which a vast majority of these procedures will not be covered.
For more information on vascular anomalies and how you can support the Hannah Storm Foundation, please visit our website.
About the Hannah Storm Foundation
The Hannah Storm Foundation was created in 2008 to raise awareness, fund treatment and provide educational information for children suffering from debilitating and disfiguring vascular birthmarks. Hannah's passion stems from being born with a port wine stain birthmark underneath her left eye. HSF also funds educational programs at Notre Dame and in Bridgeport, CT. The Hannah Storm Journalism Internship at Notre Dame was started in 2006 as an opportunity for current Notre Dame undergraduate students to gain practical experience while working in the Alumni Association's Communications and Marketing department. The Angels Aid Scholarship Program provides support for educational opportunities to children in six inner-city Catholic schools in Bridgeport, CT.
###