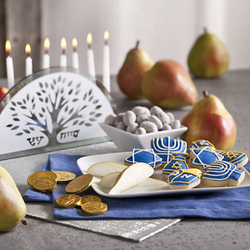 Medford, Oregon (PRWEB) November 23, 2010
Harry & David, America's gift experts for over 75 years, offers over eight nights' worth of gourmet Hanukkah gifts, including mini potato latkes, fresh fruit gifts and kosher gift baskets.
Enjoy the annual festival of lights and rejoice in the miracle of Hanukkah with themed Hanukkah gifts from Harry & David, such as our Winter's Treasure gift box. This delightful gift is filled with premium treats, like homemade chocolate-covered peanut brittle, mini confetti cupcake cookies, chocolate-dipped coconut macaroons and more. Spice up Hanukkah family traditions this year by adding gourmet Harry & David treats.
Share Harry & David's fresh fruit and other Hanukkah gifts with family and friends during Hanukkah to reconnect and reflect. Our Homesake Mangowood Bowl with Royal Riviera Pears gift comes with our signature comice pears in a unique bowl carved from Thai mango trees. This succulent, juicy fruit makes a great treat after playing a lively game of spin the dreidel!
Get kids into the spirit of Hanukkah this holiday with traditional Hanukkah games and eight nights of
Hanukkah gifts from Harry & David. Kids are sure to love our mini latkes as well as the surprises inside our Menorah with Treats gift. Our Menorah with Treats gift surprises kids with a new present each night, such as chocolate toffee almonds, a variety of festive cookies and classic chocolate gilt coins. Our miniature potato latkes are made the old-fashioned way with grated potatoes and onion, fried in oil. Order these Hanukkah favorites by themselves or with one of our kosher gift baskets for the perfect kid-sized snack. Treat friends and family with these gourmet Hanukkah gifts and goodies.
Remember to order all Hanukkah gifts and kosher gift baskets before the shipping cut-off dates to ensure their timely arrival. The last day to order Hanukkah gifts using regular shipping is November 23rd; the last day for 2-day express is November 26th and the last day for next day delivery is November 29th before 10am PST.
All orders are backed by a 100% guarantee. If those who receive our Hanukkah gifts are not fully satisfied, Harry & David will provide either an appropriate replacement or a full refund. Visit http://www.harryanddavid.com for more information.
Harry & David is a leading lifestyle and gourmet gift company that brings joy and celebration to the way people connect, work and play. With a 75-year reputation for genuine farm-to-table freshness and unsurpassed artisanal quality, Harry & David is legendary for products such as the Fruit-of-the-Month Club® gifts, featuring top-quality fruit, pampered on the tree, picked at its peak; Royal Riviera® Pears, prized for their lush juiciness, melting texture and exquisite flavor; Oregold® Peaches, the biggest, juiciest, sweetest-tasting peaches; and Moose Munch® gourmet caramel popcorn made exclusively in our own confectionery in flavors for everyone, from Milk Chocolate and White Chocolate Macadamia Nut to S'Mores. The Harry and David catalog offers a wide variety of gift baskets, fresh fruit gifts, gourmet treats, chocolate gifts and business gifts for every occasion. Gifts from Harry & David, and its brands Cushman's and Wolferman's, are designed for festive occasions, entertaining and self enjoyment throughout the year. Through its stores, catalogs, websites and select retail partners, Harry & David offers an affordable "best-of-class" experience as part of everyday life. Happiness Delivered!
(Harry & David is a trademark, service mark and DBA of Harry and David)
###