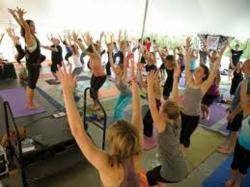 "Hanuman Festival is committed to its hometown roots as we grow as a healthy, conscious lifestyle event" - Yoshi Aono, Founder
Boulder, CO (PRWEB) February 14, 2013
Hanuman Festival today released its 2013 lineup, along with a brand new website and early registration for discounted weekend passes. The festival will take place June 13-16 in beautiful downtown Boulder, CO. Featuring more than 25 yoga instructors, including Richard Freeman, Rod Stryker, Kathryn Budig, and Paige Elenson, of the Africa Yoga Project, and with a focus on global service, or Seva, Hanuman promises an expanded and vibrant experience for the thousands of health conscious attendees who flock to Colorado for this one-of-a-kind festival.
Hanuman Festival blends the beauty of Colorado's Front Range, Boulder's commitment to healthy and sustainable dining and living, inspiring musical talent and exceptional yoga instruction to create a supportive community for festival attendees from all over the world. Additional instructors teaching at this year's festival include: Amy Ippoliti, Anand Mehrotra, Christina Sell, Saul David Raye, Darren Main, Giselle Mari, Gwen Lawrence, Kia Miller, Mary Clare Sweet, Matthew Sanford, Olivia Hsu, Sara Ivanhoe, Sianna Sherman, Tiffany Cruikshank, Tommy Rosen and more!
"Hanuman Festival is committed to its hometown roots as we grow as a healthy, conscious lifestyle event," said Festival Director Yoshi Aono. "Through internationally-renowned teachers and leaders in the worldwide movement for conscious living, Hanuman expects to attract more than 3,500 participants from across the nation."
Located on the scenic ground of the Boulder High School's great lawn next to Boulder Creek, and adjacent to the Boulder Farmer`s Market, Hanuman Festival features classes Thursday – Sunday.The festival also offers top musicians, with a Friday night concert and Saturday night dance party featuring Saul David Raye Kirtan on Thursday night, Trevor Hall at Boulder Theater on Friday night and a free acoustic set on Saturday at the Festival. The Vendor Village will feature over forty conscious exhibitors and sponsors selling everything from clothing to food. The Vendor Village is free to the public.
Hanuman Festival is sponsored by My Yoga Online, Celestial Seasonings, Gaiam TV, Prana, Earth Balance, Glutino. The city of Boulder, Downtown Boulder, Inc. and Boulder High School will help host the Festival.
Hanuman Festival is deeply committed to supporting service organizations and encouraging festival-goers to take action in their communities. As such, the festival features talks from leaders in the Seva movement and donates a portion of its sales to these organizations: Give Back Yoga Foundation, Angel Organic, MindBody Solutions, The Wellness Initiative, Africa Yoga Project.
Early-registration for the festival is open through March 1st: 3-day pass (Friday - Sunday): $299. Tickets can be purchased online at http://www.hanumanfestival.com
About Hanuman Festival
Hanuman Festival creates a setting to celebrate clean, conscious living for the modern lifestyle. The Festival brings together love for beautiful Boulder, Colorado, the dedication to fostering a supportive yoga community and devotion to giving back selflessly. Hanuman Festival 2013 will take place June 13-16 in downtown Boulder, CO. The 2013 lineup features over 25 yoga instructors from across the world, as well as musical performances and a conscious Vendor Village.
###