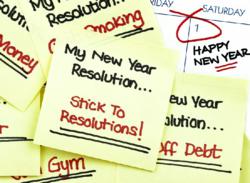 Changes take hold when one believes in why a goal is being pursued – not just what the goal is.
New York, NY (PRWEB) December 31, 2011
Here's a compelling statistic ~ 40-45% of Americans make New Year's Resolutions each year.
That's over 100 million people. But guess what? Four out of five people do not
stick with their New Year's Resolutions. Mind boggling, right?
Everyone looks forward to a new year, no matter how well the previous one went. It's a time to renew, to make changes, set goals, and strive to be the best version of ourselves. There are several interesting statistics on the subject outlined below. In addition, there is a common thread that runs through the resolutions that people make. The top 5 resolutions made each year are:
1. Spend more time with family and friends
2. Work out more
3. Lose weight
4. Quit smoking
5. Enjoy life more
Not surprising, right? Who doesn't want to spend more time with family and friends, be healthy, and enjoy their lives? Everyone does. Those desires are part of the foundation of our lives, Life – Liberty – and The Pursuit of Happiness. It's in the Constitution for god's sake.
If people want these basic needs and desires and look forward to renewing those desires each and every year through the ritual of New Year's Resolutions, why do those resolutions get discarded so easily, why aren't they pursued with passion and determination?
Stating that you want something doesn't make it so. Stating your desire is simply clarifying the What – wanting to spend more time with family and friends, wanting to be healthy and fit, wanting to quit smoking and wanting to enjoy life more. But what keeps most people from attaining those goals is Why – knowing why they want those things. That sounds strange doesn't it? - Well of course one knows why they want to lose weight, see more friends, quit smoking, be happy, right? Take a moment and put a Why to any of those What's previously outlined. If the answers are like these: 'My boyfriend is always telling me I don't spend enough time with him', or - 'I have my 20 year high school reunion this year – I want to work out and lose that extra 20 pounds, so I look good enough to impress my old high school football buddies'. Or how about, 'I know I should quit smoking – it's a nasty habit'. How long does anyone actually stick to any of those resolutions based on those Why's? The statistics tell the tale – not very long, sadly.
Let's try these Why's and see how they sound – 'I love my boyfriend and want to spend more time with him. I know that if I'm more efficient with my time during the day – I can make extra time for him and that would make us both really happy'. Or this one – 'I've noticed that since I've stopped working out regularly and because I smoke – I don't have as much energy to do the things I love to do. If I stop smoking I'll be able to run more and get in shape doing something I love to do, and play football with my friends on the weekends.'
When Why is deeply rooted in our hearts, not just in our minds – that's when real change takes place within our lives that will stick. And when people get to the place where four out of five Americans get to – wanting to give up – remember why the chosen goal is meaningful and get back on track.
Changes take hold when one believes in why a goal is being pursued – not just what the goal is.
###