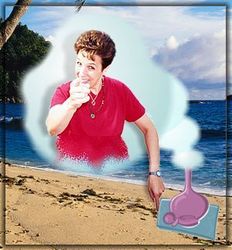 Nothing outside of you can bring you TRUE happiness. It is a choice that you have to make right here, right now ... despite the bumps in the road of life! ~Lesetz
Eugene, OR (PRWEB) September 24, 2010
Announcing ... Maria Mojo Mondays
Maria Lesetz, Inspirational Happiness Coach & Law of Attraction teacher, who is featured daily on Fox News at 10 in Eugene, Oregon, is launching her new coaching program called Maria Mojo Mondays. This new program allows people to revitalize, refresh and gain in-depth insights on how to be deliberate creators of their life experience. This woman is so passionate about lifting people's spirits up and teaching the art of choosing happiness.
It can be hard to keep positive energy flowing when things appear bleak and feel like they are just not working out. Maria Mojo Mondays provides an opportunity for participants to begin their week on a positive note. Each individual will gain private one-on-one access to Maria's high-vibing energy through quick, effective sessions. Imagine being uplifted and feeling energized just from one coaching session.
Maria teaches others how to sustain that positive energy throughout the rest of the week. The best part is that it is affordable and can be scheduled online.
Maria says, "Nothing outside of you can bring you true happiness. It is a choice that you have to make right here, right now ... despite the bumps in the road of life!"
For a new experience, schedule laser coaching sessions from her website and get that jolt of positive energy and inspiration that is needed to start the week on the right track. It's first come, first serve.
Warning ... Maria Mojo Mondays can be addictive like Red Bull or Coffee, but with very beneficial side effects. Maria says "It's not about putting a happy face on, it's about reaching within and choosing happiness!"
Never underestimate the power of feeling positive on a regular basis. It will do wonders for your life experiences.
Choose to be Lovin' Life more each day with Maria Mojo Mondays.
###