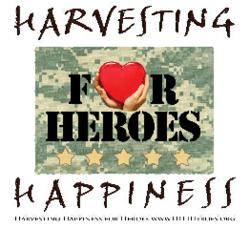 Rebuilding personal happiness is paramount in the healing of post combat wounds, and our veterans deserve to have the tools needed to readjust to a healthy state of well being.
Los Angeles, CA (PRWEB) September 19, 2011
National veteran awareness campaign Harvesting Happiness for Heroes (HH4Heroes.org) is aiding, educating and rebuilding personal happiness for veterans living with PTSD, TBI and/or physical wounds from combat trauma. As a contributor in the positive psychology field for veterans, HH4Heroes is collaborating with the prestigious Wounded Warrior Project™ (WWP), to facilitate a unique four day therapeutic scholarship retreat, for fifteen special post combat veterans and their spouses. Held at Utah's renowned Sundance Resort and Spa, the new partnership seeks to help wounded warriors and their spouses jointly reconstruct a base point for personal happiness in post combat life. Anna Freese, Director of the WWP Family Support Program states, "We are excited about working with Harvesting Happiness for Heroes! We are humbled to help our wounded warriors through their physical injuries but in working with HH4Heroes, we are expanding our efforts to continue assistance to the emotional well-being of our veterans and their spouses."
Led by internationally respected Los Angeles based happiness expert, Lisa Cypers Kamen, HH4Heroes and WWP will provide unique, daily, introspective and creative happiness workshops for 30 retreat attendees. Each workshop is tailored to introduce positive psychology coaching techniques for both veteran and spouse, to battle potential side effects of an active combat life such as; documented depression, substance abuse, anger management issues and suicide. Adding community support for the HH4Heroes and WWP mission, local Salt Lake City volunteers from Massage Envy of Utah and qualified Yoga for Vets™ instructors from the SLC Integrated School of Yoga will be providing optional massage and yoga therapy for attendees, accompanied with gifts from Gaiam and Aroma-Chick. "This is a great way to offer support and recognition, not only of our nation's veterans, but Utah's own wounded warriors that are healing invisible and physical wounds. We are pleased to be involved, offer gratitude for the men and women who have sacrificed so much and hopefully aid their healing process," states Isabelle Barger, Director of the Integrated School of Yoga.
HH4Heroes is also partnering with Salt Lake City's popular WWII themed happiness bakery, Ruby Snap Cookies, and will debut a one of a kind cookie for HH4Heroes named GI Ginger at the event reception. Ongoing retail sales will benefit national HH4Heroes outreach. In conjunction with the reception premiere of HH4Heroes theme song InBetween by songwriter Bekah Eden Tunnecliffe, Kamen will be screening her new film H-Factor. . .Where Is Your Heart?, offering insight into the serious business of healing through happiness. Guitar Center of Salt Lake City is also contributing to the retreat, by donating 30 practice guitars for a music therapy session with national non-profit organization Guitars for Vets™ acclaimed musician, songwriter and instructor Miss Meaghan Owens. Guitars for Vets™ is offering new guitars by US Music Corp, parent company of Washburn, Oscar Schmidt, for event attendees interested in continuing lessons as combat trauma therapy after returning home. Laughter comes last but not least on the HH4Heroes program agenda! Offering some comic relief to the program includes a pro-bono performance by acclaimed stand-up comedian and motivational speaker Adam Ace-The Man In Red.
"We are so excited to bring our first retreat program to Utah's Sundance Resort, as we raise awareness for the community support needs of our veterans and their spouses in the state of Utah and across the nation. We look forward to working with the Salt Lake City community and being empowered by WWP to make the upcoming program truly therapeutic. Rebuilding personal happiness is paramount in the healing of post combat wounds, and our veterans deserve to have the tools needed to readjust to a healthy state of well being," states Program Director and Founder, Lisa Cypers Kamen. For more information on the HH4Heroes retreat program please visit harvestinghappiness.com.
About Harvesting Happiness for Heroes
Harvesting Happiness for Heroes is a pending 501(c) (3) non-profit organization with national outreach, working with wounded warriors, their family members and caregivers in rebuilding personal happiness throughout PTSD therapy management. Harvesting Happiness for Heroes workshops and seminar series are open to public and private sectors. HH4Heroes offers positive practice coaching to military outreach organizations to better and more consistently serve the military community and the public at large. Please visit HH4Heroes.org for more information.
About Wounded Warrior Project
The mission of the Wounded Warrior Project™ (WWP) is to honor and empower wounded warriors. WWP's purpose is to raise awareness and to enlist the public's aid for the needs of injured service members, to help injured servicemen and women aid and assist each other, and to provide unique, direct programs and services to meet their needs. WWP is a national nonpartisan organization headquartered in Jacksonville, FL. To get involved and learn more, visit woundedwarriorproject.org..
###