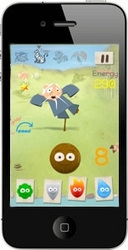 Keep your Balance!
(PRWEB) March 23, 2011
Happy Blue Fish announces a new 2.0 version of Feng Shui Game. The very first "Lifestyle Gaming" game released a year ago now benefits from all the experience acquired by the Studio.
Feng Shui Game is a fun and easy-to-use casual game, and a relaxing way of discovering this ancestral Chinese art.
Relax and learn while playing with Master Ki:
You will discover the basics (nature cycles, Yin Yang, self control...) through three very different game modes. The difficulty level takes off slowly to grant you a relaxing and always interesting game experience.
This update includes :

A brand new game mode called Yin Yang.
Existing game modes enhancement.
Major ergonomic and game experience enhancements.
Addition of the Apple Game Center to compare your scores with those of players from all over the world.
Several graphical and technical enhancements.
More information about Feng Shui Game on our website
Watch the Video Trailer
Download Feng Shui Game on the Apple App Store.
Lifestyle Gaming : Play to improve your Well Being
Thanks to the Smartphones and social networks, the video game industry reaches a new public, the casual gamers.
"Our "Lifestyle Gaming" series is dedicated to the new players. With these games, our public can discover lifestyle topics, always linked to health and well-being. Our games are built around these topics, so you can play and learn without even being aware you learn."

Dominique Busso, Happy Blue Fish
Happy Blue Fish: "Help people grow"
Based in the heart of the legendary corsair city (Saint-Malo, Bretagne), the studio was founded in September 2009 by Dominique Busso, former CTO at Mindscape S.A.
Our editorial strategy:
Our games are designed not only to entertain, but also to add a positive influence on people's life, from kids to elderly: learn something, feel better at home, at work, in your life, with your friends, understand the world... We follow this editorial strategy for both the "Lifestyle Gaming" line-up and the "Kids Gaming" line-up.
# # #