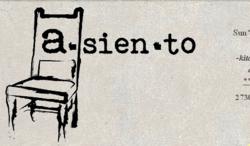 Asiento is the local chill place to go
San Francisco, CA (PRWEB) February 14, 2012
On Valentine's Day, Tuesday, Feb. 14, San Francisco's best brunch and neighborhood bar Asiento invites guests to join them at 21st and Bryant in the mission to celebrate the holiday of love with food, entertainment, and drinks.
A Valentine's Day celebration special includes two tapas and two glasses of sparkling bubbly for $22. Entertainment will be provided on their high quality sound system by Live DJs and an acoustic trio.
A few of the tempting Tapas offerings available at Asiento include Lemon Hummus, made to order Guacamole, Tostadas de Tinga (chipotle marinated chicken with avocado and chipotle cream), Bocadillos (little sandwiches), Queso Fundido (5 cheese fondu with house made hips and served with beef chorizo or peppers), Albondigas (meatballs with capers and tomato sauce), Crab Cakes and Gambas (sautéed shrimp with garlic, chili flakes, basil, and wine).
Asiento will also be offering their $2 tacos and drink specials that evening as part of Taco & Tapas Tuesday.
"Asiento is the local chill place to go," said Debi Cohn of Asiento. "We are cost effective and low key."
For more information on Asiento, call 415-766-0238or visit them online at http://www.asientosf.com. Asiento is located at 2730 21st St. in San Francisco. Open seven nights a week and for Sunday Brunch.
About Asiento
A San Francisco bar serving tapas, Asiento, is a neighborhood bar, located in San Francisco's Mission District. They are known for their Chill welcoming vibe, happy hour specials, numerous board games and game night. Top it off with an eclectic wine list and the best secret Sunday brunch, known as the Sunday Recovery Brunch, 11 a.m. until 4 p.m. They offer a casual relaxed environment where people can stop in for a drink and meet up with their neighbors or make new friends. The bar features San Francisco's finest local talent, ranging from the favorite neighborhood and surprise international DJs to local bands each amplified by the bar's top of the line JK Sound system.
###