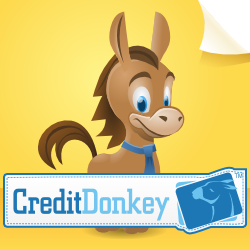 celebrate the Holidays
Los Angeles, CA (PRWEB) December 19, 2011
With the holiday season upon us once again, the time has come for us to gather and celebrate with friends and family by exchanging gifts, reflecting upon our lives and giving thanks. CreditDonkey.com, a credit card comparison website, publishes an infographic celebrating the holiday season.
Infographic: http://www.creditdonkey.com/happy-holidays.html
From North Pole, Alaska to Santa Claus, Georgia, Americans will celebrate the holidays, with the population projected to exceed 312 million as the New Year is rung in.
Holiday by the Numbers:

26% of respondents to a survey by Discover said they would buy with credit, a 3% uptick from 2010.
$3.5 billion will be lost this holiday season due to return fraud
Nearly 4 in 10 retailers have experienced people returning items using counterfeit receipts.
$983 million worth of Christmas tree ornaments were shipped from China to the U.S. between January and September 2011.
While 56% of respondents said they will give clothing, only 48% said they'd like to receive clothing.
Compared to 51% of respondents who said they'd like to receive electronics. Only 43% plan to give electronics.
View the full infographic on the Holiday Season in America on CreditDonkey.com. The full infographic includes:

Holiday Credit Card Usage
Where the holiday is alive year-round: Location names associated with the holiday season
Who's been naughty: The Naughty List
What we're buying: Christmas Trees and Decorations
What we're giving, and what we'd like to receive: Holiday Gift Survey
Savvy consumers can visit CreditDonkey.com to compare best credit card deals. CreditDonkey.com publishes credit card reviews, deals and tips to help Americans make informed decisions about credit. They can search, compare offers and apply online, finding the best credit cards for their individual needs.
# # #