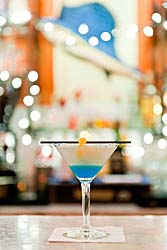 The citrus in the lemon pairs well with our seafood. The color is just right, too. It's Plouf blue—like the ocean.
San Francisco, CA (Vocus/PRWEB) May 25, 2011
Locals often say Plouf Seafood Bistro hosts the best happy hour in San Francisco. The location, in charming Belden Place, transports patrons from downtown San Francisco to a small outdoor café set in the Mediterranean. Many enjoy the freshly caught seafood with a nice, refreshing Plouf Cocktail. Bartenders at Plouf have been pressed for years to reveal the recipe for Plouf's best selling cocktail, the Plouf Cocktail, and now they are finally sharing it with the world.
"Our most popular drink is the Plouf cocktail, followed closely by the Mojito," said Plouf bartender Antonio Guardado. "We use the very freshest ingredients, and I don't make them too sweet: it ruins the pallet."
To make the Plouf Cocktail, Guardado follows these 3 steps:
1. Shake ice, 2.5 ounces of vodka, .5 ounces of Cointreau, and ½ freshly squeezed lemon together
2. Strain into a martini glass
3. Add a splash of Blue Curaçao, which will settle to the bottom of the glass
"The citrus in the lemon pairs well with our seafood," said head chef Mark Papedis. "The color is just right, too. Blue Curacao is Plouf blue—like the ocean."
The Plouf Cocktail has a smooth, cool blue bottom and a clean, crisp top. Pepedis says that the soft and fresh flavors of seafood are enhanced by the zesty flavor of citrus found in the Plouf Cocktail.
Located in the heart of the Financial District in Downtown San Francisco, Plouf is perfect for business people who missed lunch because of long meetings to stop and grab a bite to eat. They can sit outside and share cocktails, mussels and oysters.
For more information about the Plouf Cocktail or Plouf Seafood Bistro please call (415) 986-6491, visit the website at http://www.ploufsf.com, or visit one of San Francisco's best restaurants at 40 Belden Place in San Francisco.
Plouf Seafood Bistro is one of San Francisco's best seafood restaurants. Plouf specializes in mussels, oysters, unique appetizers, salads, seafood dishes, and meats, along with being known as a one of the top San Francisco crab restaurants. In France they say that "Plouf" is the sound a stone makes when it drops into a stream. Chef Mark Papedis studied cooking in France, served as chef at the Ahwahnee Dining Room in the world-famous Ahwahnee Hotel in Yosemite National Park for three years, and served as chef at Wente Vineyards in Livermore for the last five years.
About Belden Place
Sixteen years ago while people were avoiding looking down, and certainly not walking though, the garbage alley named Belden place—Erik Klein and Oliver Azancot saw an opportunity. They imagined the passageway filled with tables and chairs, great food and wine, and sparkling lights—the kind of setting friends would gather for a magical evening of epicurean delight.
It was here they opened Café Bastille in 1990, and over the years the addition of other great bistros like Plouf and B44 have transformed this former garbage alley into a piece of Old Europe—a world-class dining experience, a San Francisco landmark where residents and visitors from all over the world come to raise their forks, glasses, and spirits and celebrate the good things in life.
###