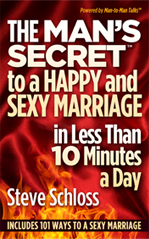 "Most men I talk to in unhappy marriages are frustrated, yet they love their wives and are starving for solutions. I have experienced their emotions and discovered how fun and easy it is to reactivate love and intimacy in marriage". -Steve Schloss
Princeton, NJ (PRWEB) June 26, 2013
New author, Steve Schloss, has experienced a 24-year marriage, a lousy divorce, years of dating and is now in a wonderfully loving relationship. Writing to men, Steve's first book, THE MAN'S SECRET TO A HAPPY AND SEXY MARRIAGE IN LESS THAN 10 MINUTES A DAY, recognizes that guys don't want theories on the differences between men and women. Men want solutions! They want a "playbook" that tells them, in black and white, what they need to do to make their wives happy. This cut-to-the-chase approach is the solid foundation on which this book is built.
Inside the pages of THE MAN'S SECRET, Steve focuses on successful ways of communicating with your wife so you can skip months or years of marriage counseling and even forgo divorce. His solutions are easy and fun to implement, making you and your wife happy and sexy again in less than 10 minutes a day.
"Unhappy marriages are of epidemic proportion. Most men I talk to are frustrated, yet they love their wives and are starving for solutions. I've experienced their emotions and discovered how fun and easy it is to reactivate love and intimacy in marriage," says Steve Schloss.
THE MAN'S SECRET TO A HAPPY AND SEXY MARRIAGE IN LESS THAN 10 MINUTES A DAY has 212 pages, 10 cartoons and is currently being published by Man To Man Talks Media. It is available on Amazon.com for $14.95 + applicable sales tax and shipping. The book is also available through a network of participating counseling professionals, who have agreed to offer it to their clients and others.
About the Author
Steve Schloss is an author, public speaker and men's relationship acceleration coach who offers one-on-one coaching to help men rejuvenate the fun and love in their marriage virtually overnight. A graduate of The University of Wisconsin with an MBA degree, his professional career in publishing and marketing includes 30 years in corporate America with assignments at Meredith, Hearst and SourceMedia. Steve currently lives in Princeton, NJ, has two grown children and is in a wonderfully loving relationship.
For more information about THE MAN'S SECRET TO A HAPPY AND SEXY MARRIAGE IN LESS THAN 10 MINUTES A DAY, please visit http://www.mantomantalks.com or contact Marc LeVine at 732-492-9726